Thursday, 10/4/17

At 2017 EWB-USA Conference in Milwaukee, I arrived in time to check into the hotel, catch the end of the reception and say hello to some colleagues. Then we watched Before the Flood, an hour an a half long documentary, that takes a look at how climate change affects our environment and what society can do to prevent the demise of endangered species, ecosystems and native communities across the planet.
https://www.youtube.com/watch?v=ZFmVRsQho4Y
Afterwards, we discussed the film and what we might be able to do to address climate change. During the discussions, I heard strong recommendations for the book Drawdown: The Most Comprehensive Plan Ever Proposed to Reverse Global Warming, edited by Paul Hawken.
Friday, 10/5/17

Cathy Leslie's introduction noted it is the 15th anniversary of Engineering Without Borders USA (EWB-USA). The talks are due to be posted online, but weren't as this was posted. Check back at the conference link 2017 EWB-USA Conference.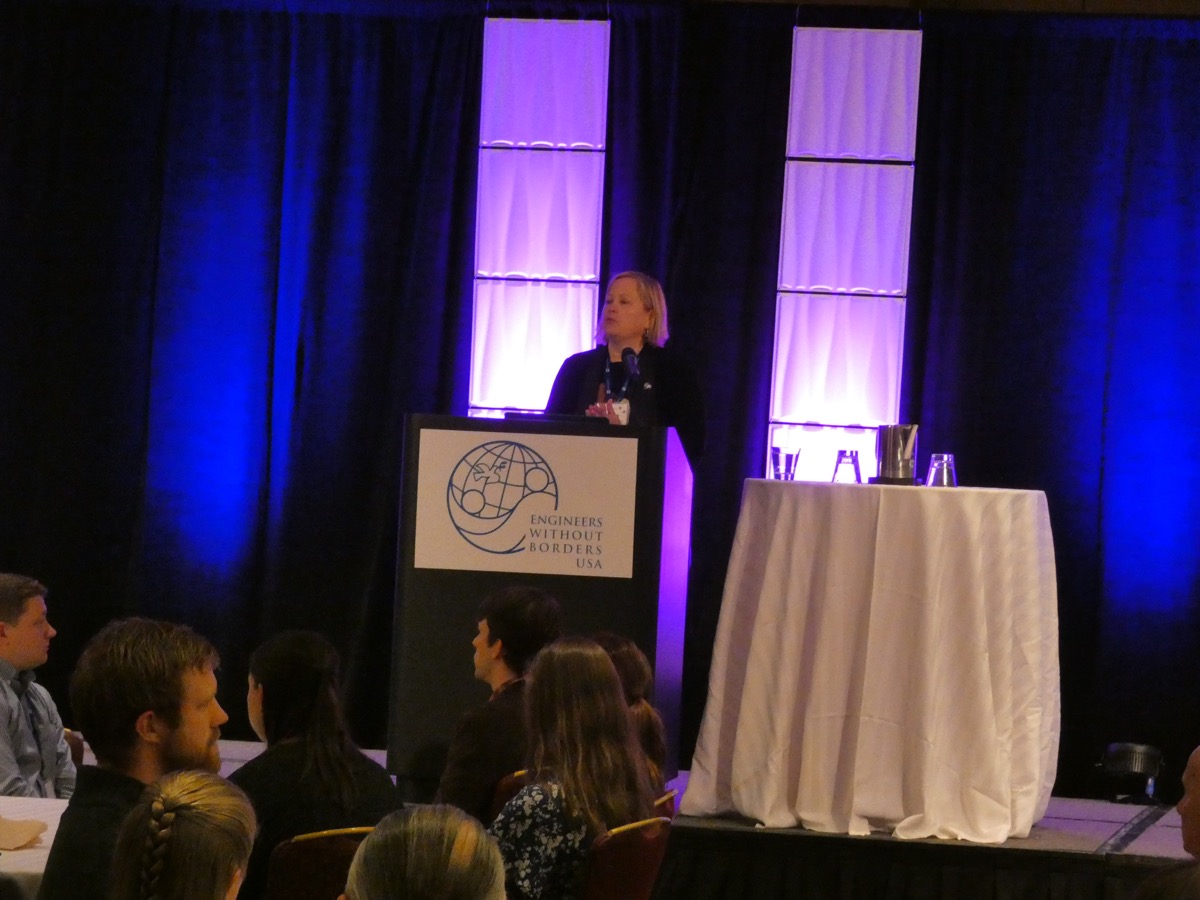 We heard keynote speaker, Paul Schmitz, author of Everyone Leads: Building Leadership from the Community Up.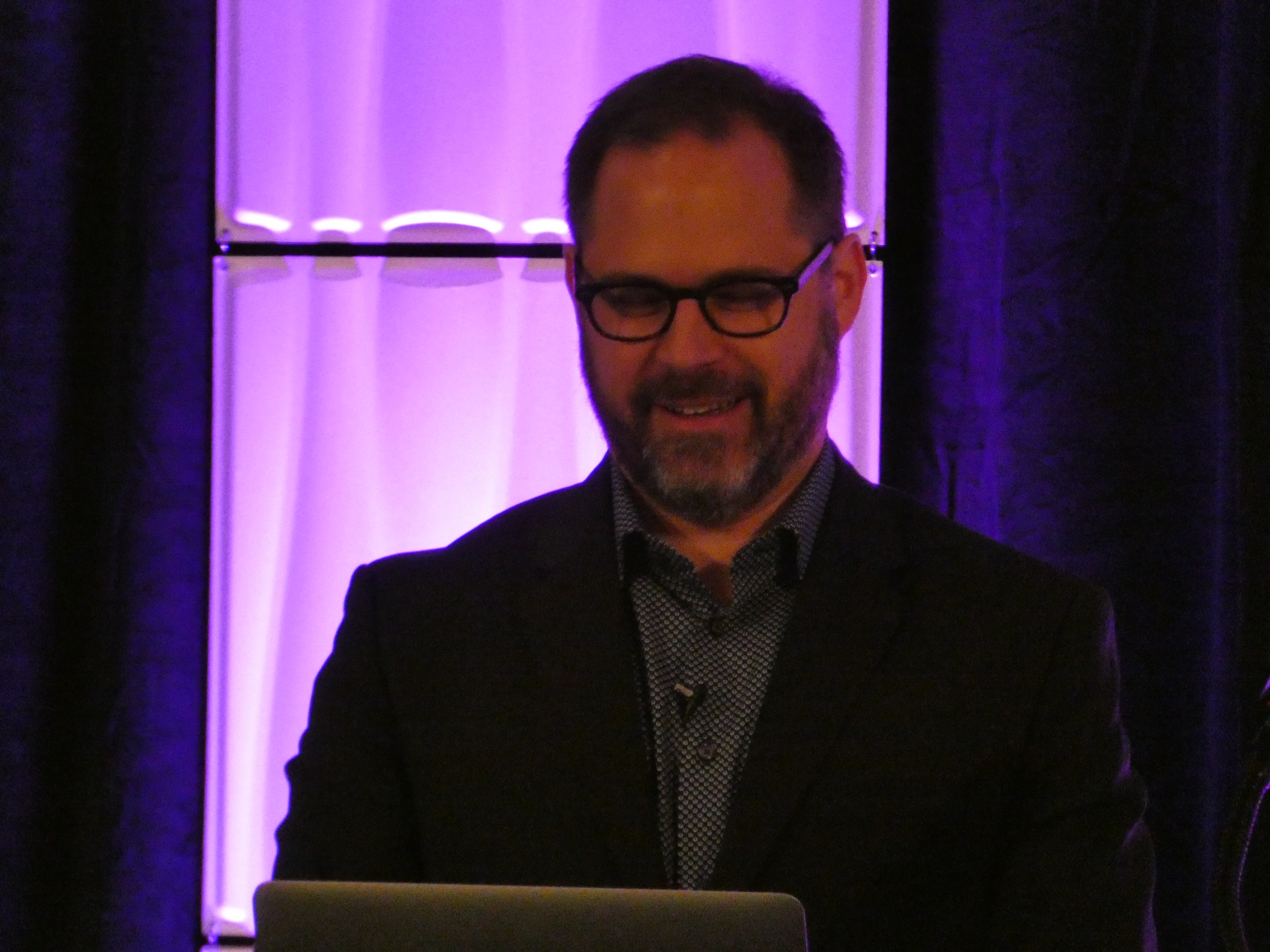 Climate Change Session
Kevin Hagen introduced the adaption to climate change session.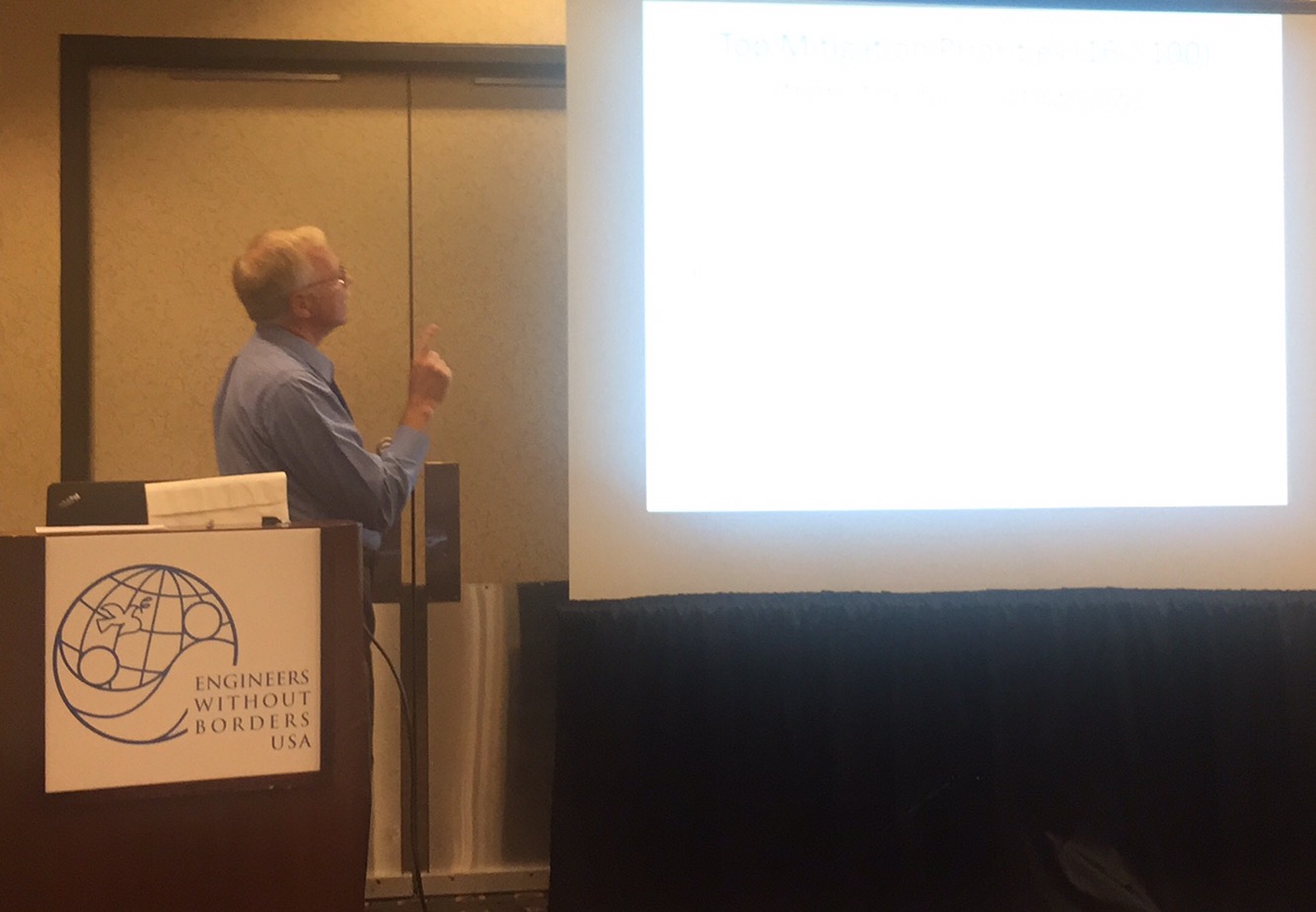 Mike Paddock spoke to an example of an Engineering Service Corps hydro-electric recommissioning assessment and implementation initiated by a community in Central America. The recommissioned system can generate 60kw of greenhouse gas free power.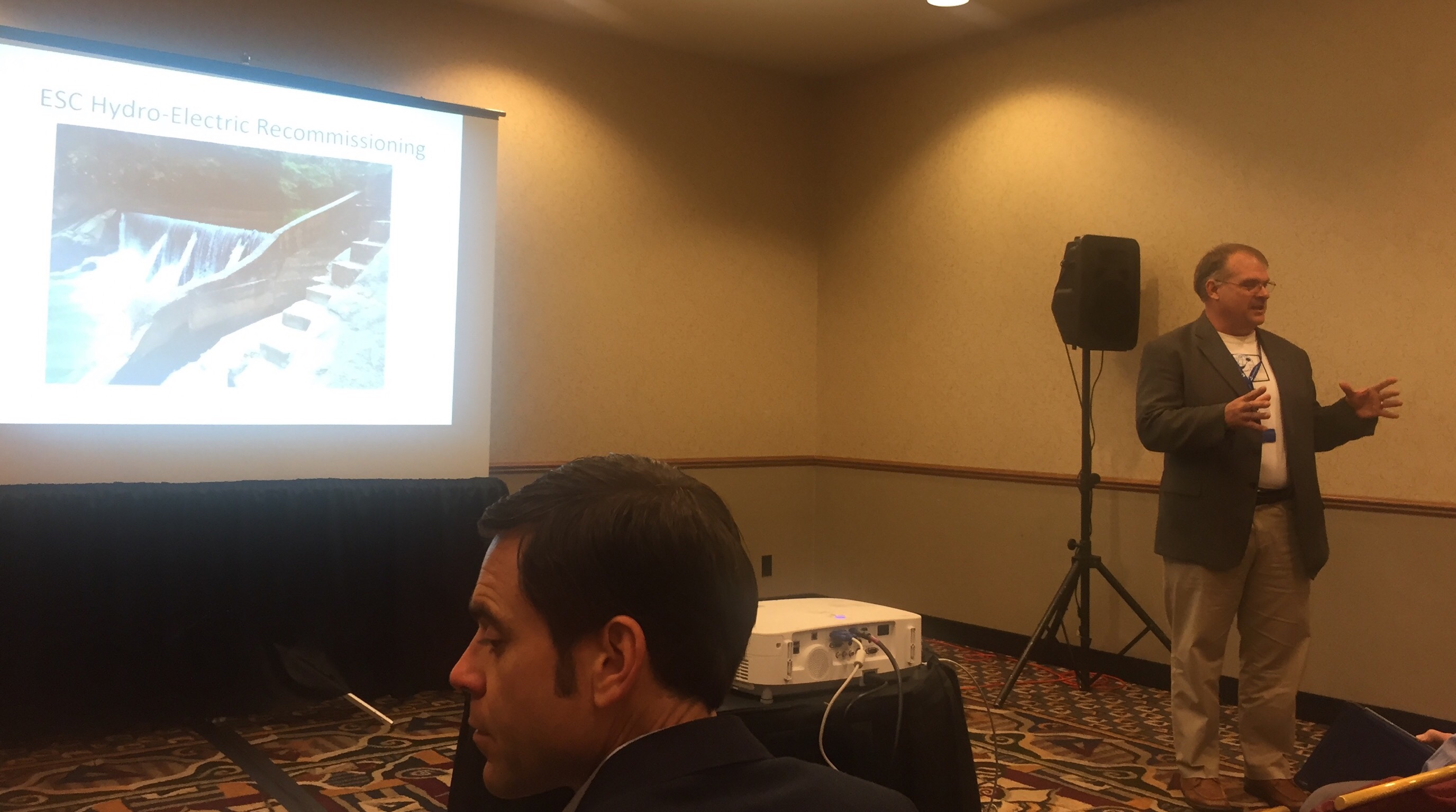 Kevin Hagen spoke to solar mini-grids in UNHCR refuge camps, with funding from Ikea.
Kevin Andrezejewski spoke to ESC irrigation, crop waste re-use, and crop cooling initiatives.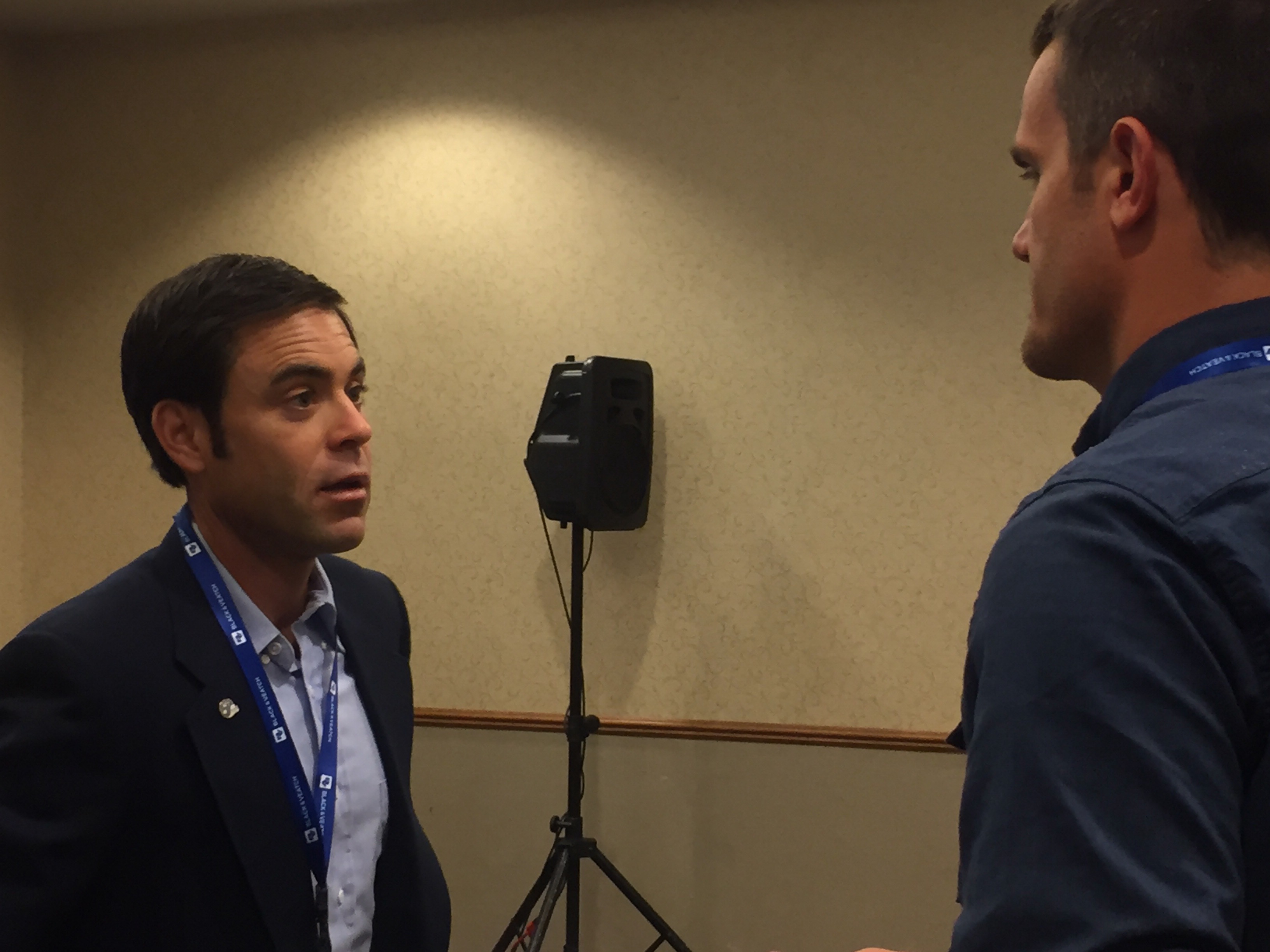 Gerard Daizel spoke to International Community Program (ICP) climate impacted projects. Showed an example of Misuuni Water project in Kenya, with extreme climate impact considerations.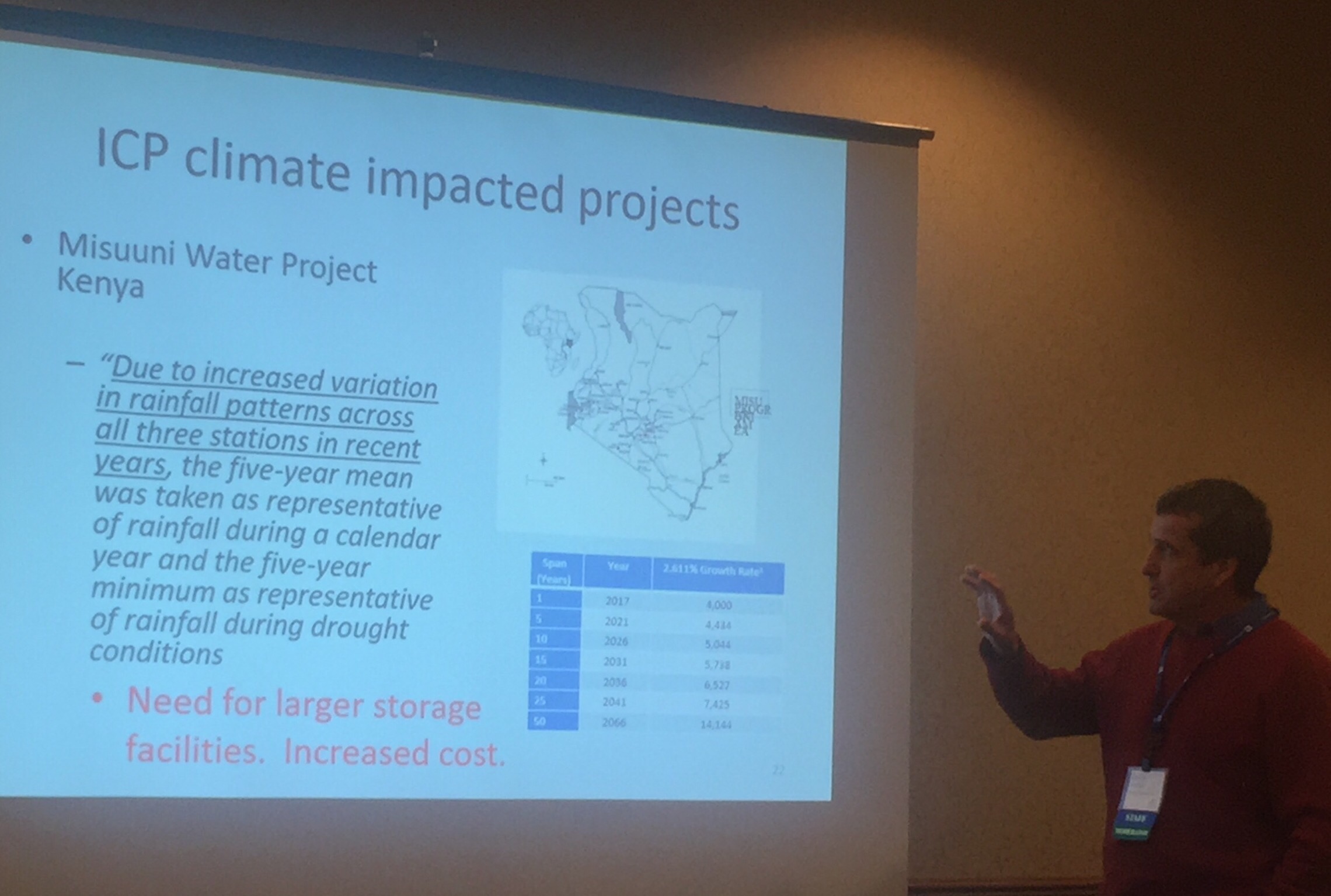 During breakout sessions, I took flip chart notes for Mike Paddock's EWB Operations.
Frank Bergh led the Energy session.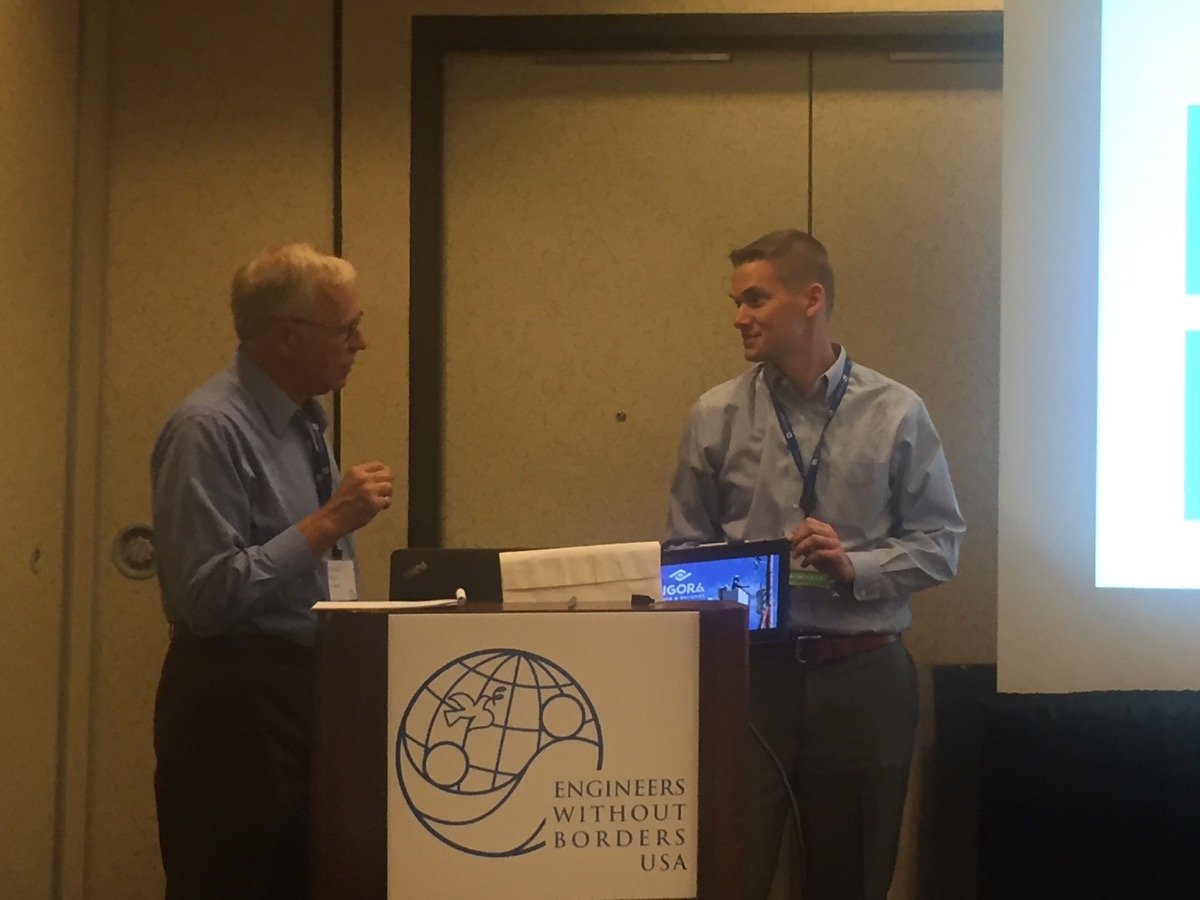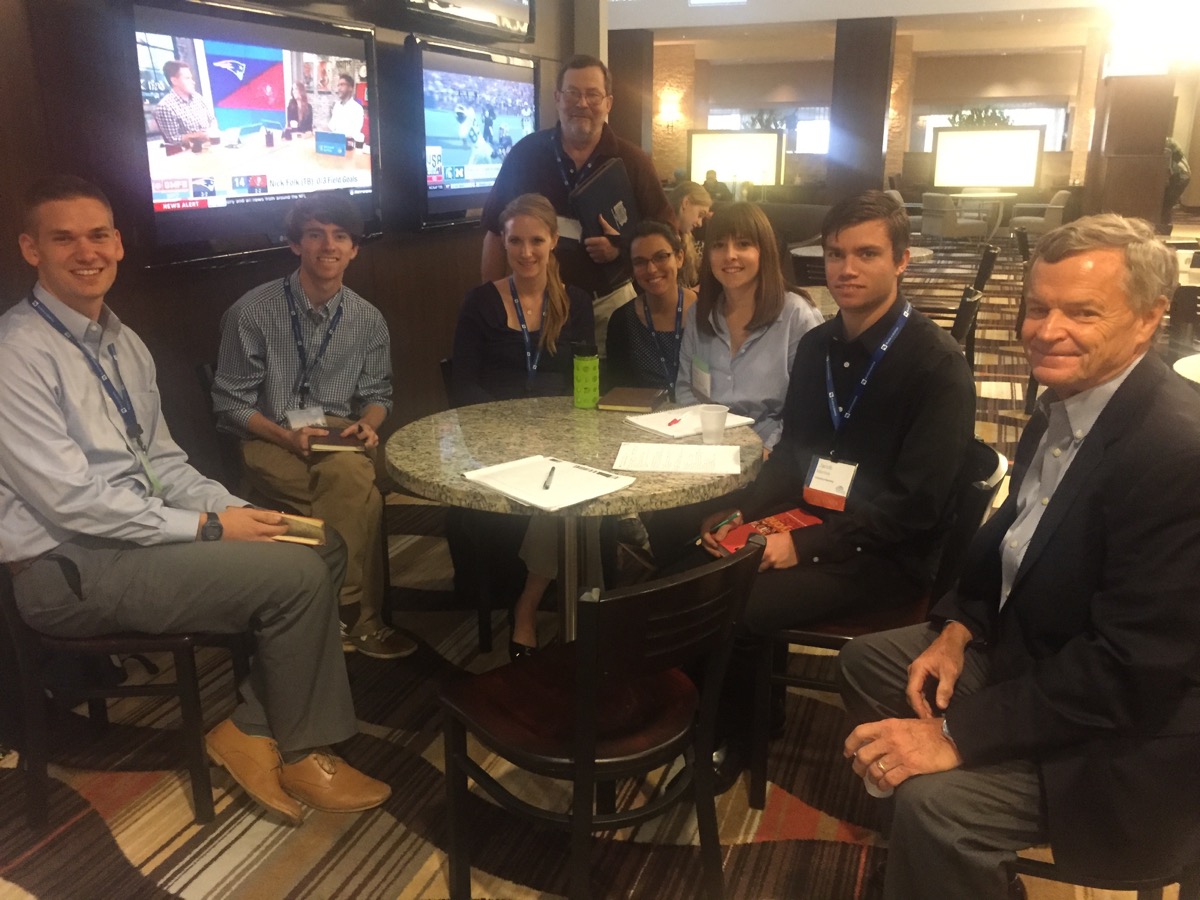 Session facilitators recappped sessions: noting risks, opportunities, actions, and metrics.
Kevin Hagen summarized next steps:
Hiring climate focus engineer
Forming climate change committee
Lunch, Keynote
In keynote by Joby Taylor, from the Schriver Center at UMBC, he liked the "Without Borders" aspect, and programs that encourage us to think globally – as if we have two passports: one for our country and one as a global citizen or human being.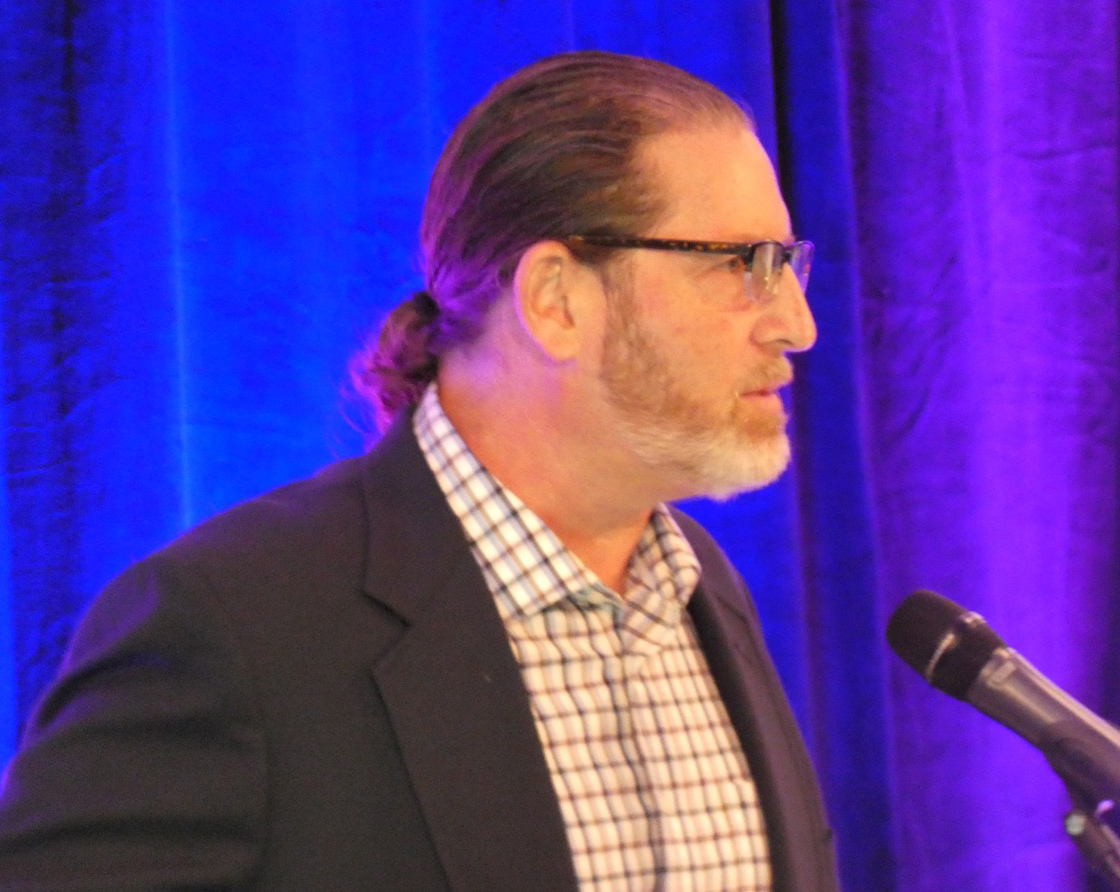 He joked about having dropped off Chris Bleers, EWB-USA Director of Operations, at his Peace Corps village assignment. He showed EWB-USA's vision and mission statements, spoke to them. Then showed the Peace Corps'.
He showed photos of his first Peace Corp assignment in Gabon, Africa, and his experience with the villagers who showed him the old abandoned school on a flat soccer field. But then they walked to the new school site on a steep hillside where he was to build the new school with them. He argued it was the wrong spot, but they were adamant.
He quoted Thích Nhất Hạnh, Vietnamese Buddhist monk, peace activist, and mindfulness advocate. "Don't just do something, sit there." He used it. Listened deeply. He learned the hillside was between the two smaller villages. The communities chose the location so, during construction and afterwards, both groups would own it, and their children would go to it. He got it – realized they knew this was necessary for the the success and sustainability of the new school.
He spoke of:
Values: working with, collaborating, community assets – "go up country" – find yourself in the community you serve, work with deep cultural understanding and return with deep cultural knowledge.
The book, Borderlands/La Frontera: The New Mestiza, by Gloria Anzaldu and her notion of borders – in this case, "…This is my home, this thin edge of barb wire…a 1900 mile open wound…of  her needing to think sin fronteras to survive…"
The Peace Corp and EWB work and how these borderlands and our crossings change us.
Earlier in the day, he'd learned of and strongly supported the work of the EWB-USA offices in Guatemala and Nicaragua. He challenged them to also offer deep crosscultural learning to teams.
He discussed the Baltimore Highway to Nowhere, built 40 years ago as part of slum cleaning, and the tough neighborhood that it has impacted. However, now he works there and there is lots of organizing – it's a borderlands, with projects emerging. He recommended Jane Jacobs, The Death and Life of Great American Cities, as the urban planning book to read.
Joby encouraged us to work locally as well as internationally. He spoke to his view of hope as a commitment rather than a feeling or prediction, but as a life orientation, as a core commitment to resisting cynicism, resisting closing ourselves to others and the world. He cited Howard Zinn's, The Optimism of Uncertainty,  and closed with quotes from Schriver:
"What can change the world today is the same thing that has changed it in the past-an idea and the service of dedicated, committed individuals to that idea."
and Mead:
"Never doubt that a small group of thoughtful, committed citizens can change the world; indeed, it's the only thing that ever has."
Energy: Basics, Design, and Applications session
Larry Bentley discussed Assessing Community power Options. His talk was chock full of real world electrical practices and photos.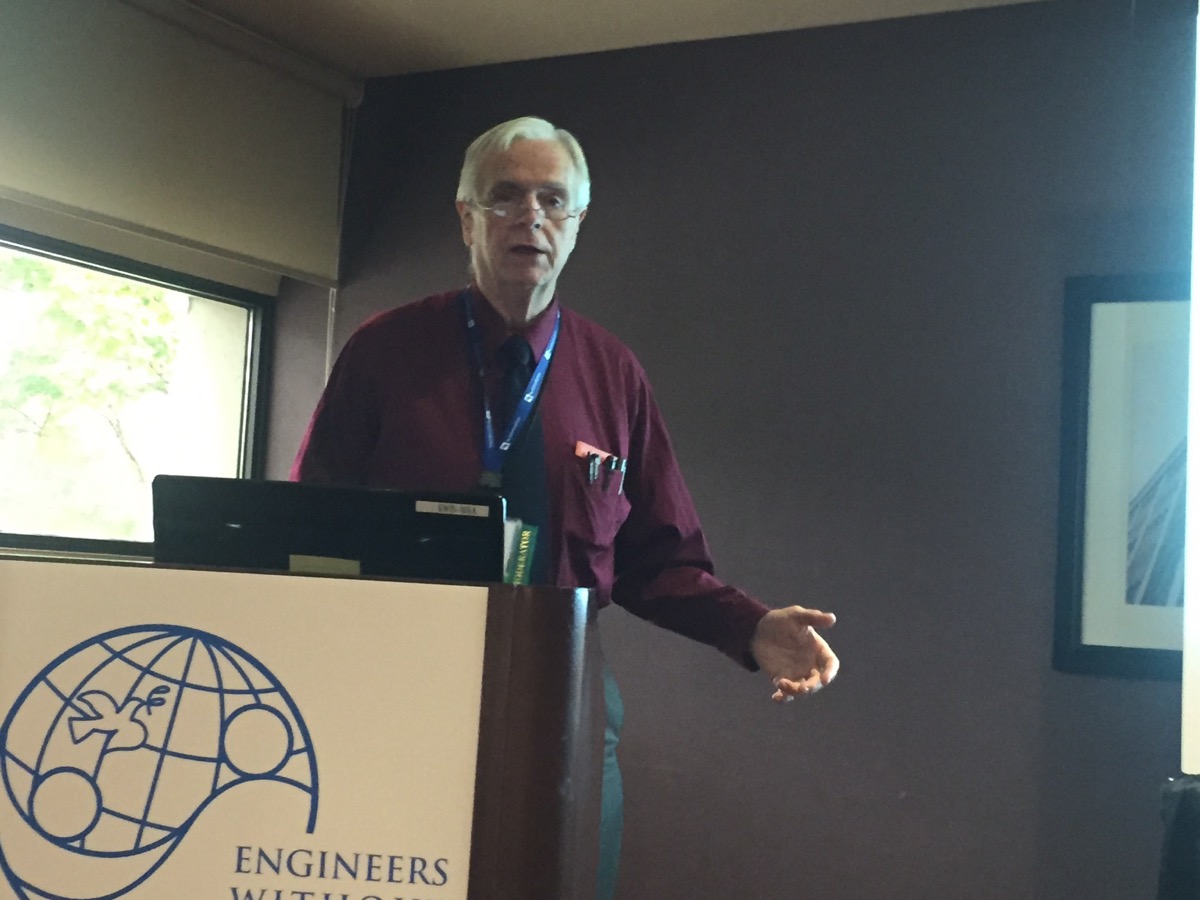 Louis Woofenden discussed solar system design. He walked the group through a lighting example with design conditions, use of resources, and assumptions to design a system.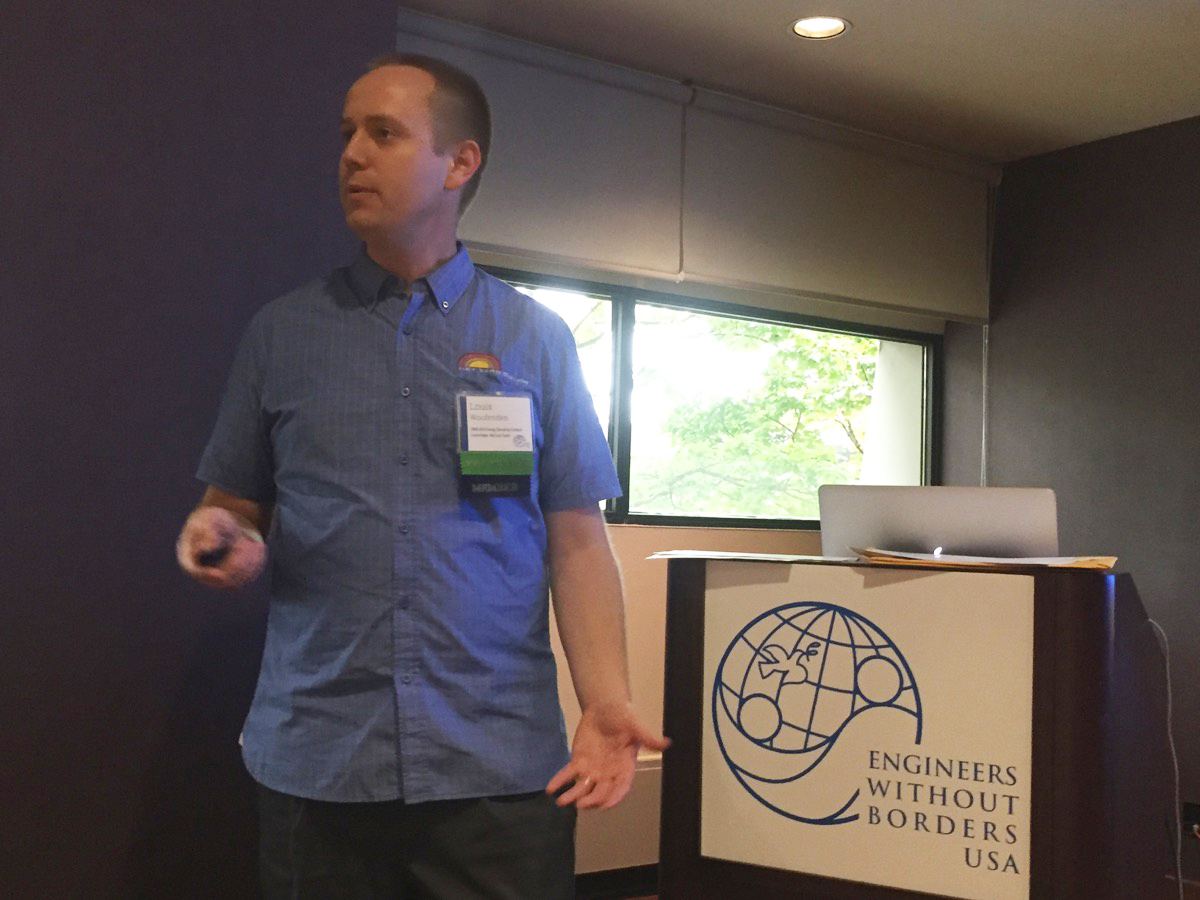 A team from Walla Walla University chapter and their faculty advisors discussed their solar systems in Japura, Peru.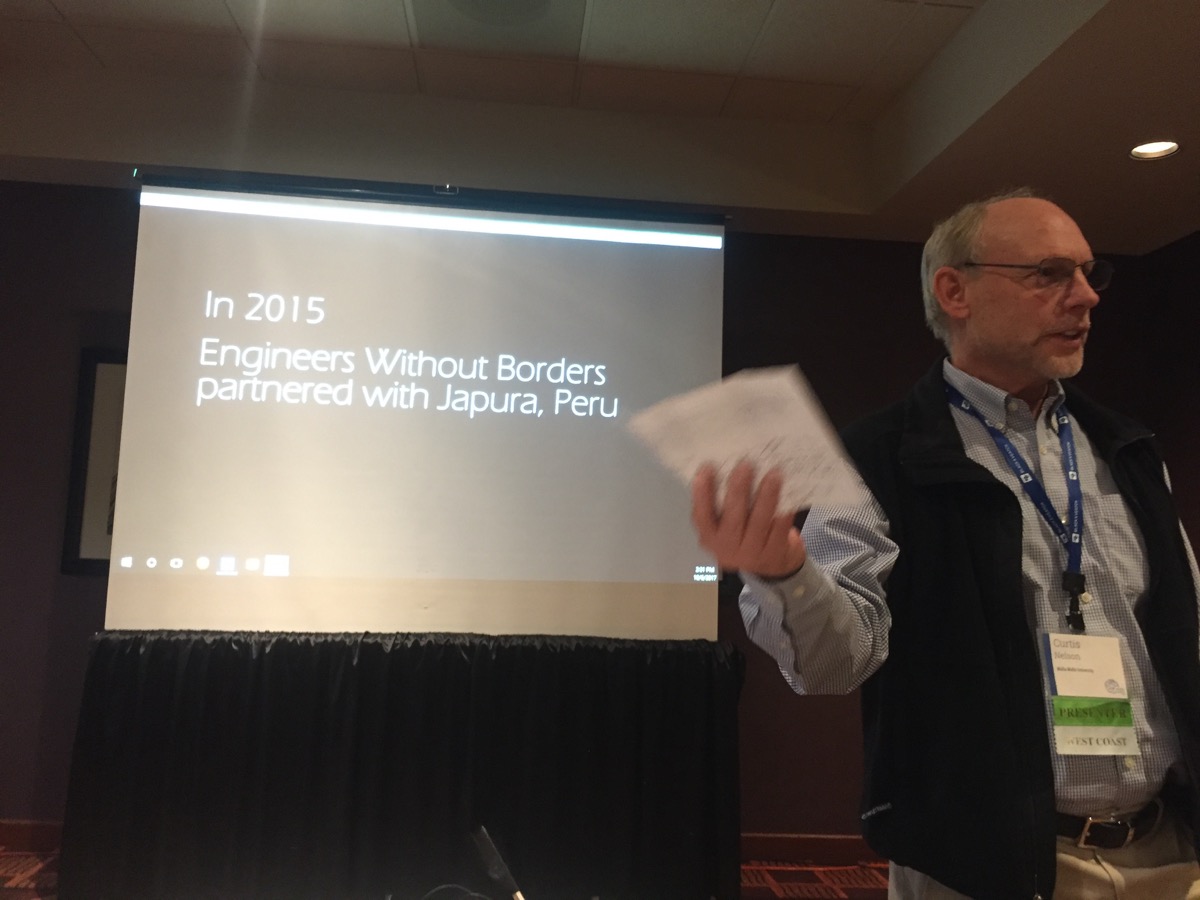 Their advisers emphasized:
Empowerment of the students in working the EWB project process logistics
Why electricity was a priority in the community for students to study and so women could do their handicraft work at night.
They discussed how they facilitated helping the community find their new partners – vendors and installation technicians. They spoke of lessons learned: 16 other communities expressed interest in partnering, so the community was pleased and spreading the word. Keeping the students front and center in the interactions with the community and the project management was key.
The students discussed the shift from the hydro, the community initially recommended, to solar as a number of issues emerged. Their team sent a group to bond with the community for a summer and prototyped the solar systems. They needed to translate from English to Spanish to Quechua.
Their video does a superb job showing the community, the work, and testimonials from the families. Great aerial images.
Libby Jones, advisor for University of Nebraska, discussed lessons learned from installation of solar lights in schools in Madagascar.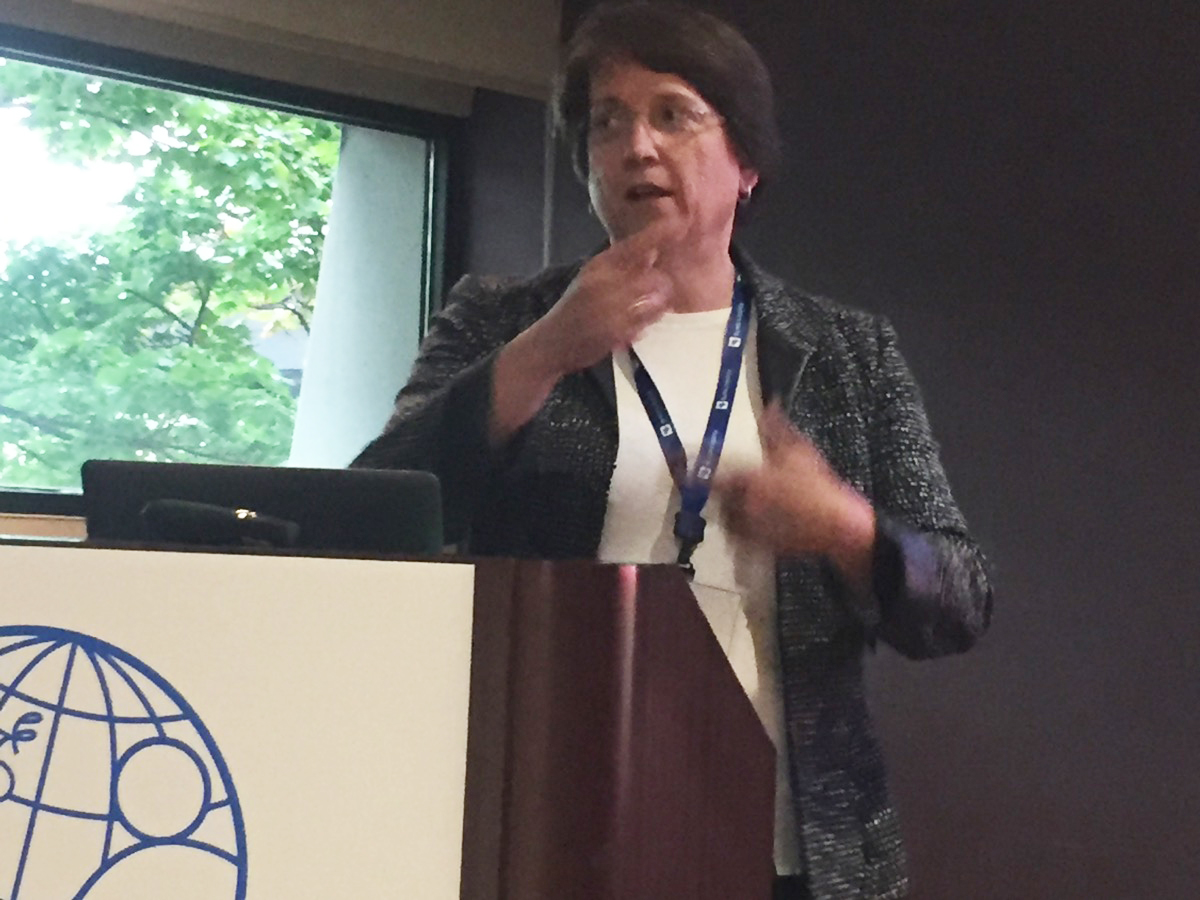 Be prepared. Went expecting water , but … solar popped up
Listen carefully and check translations, in MOU added "community buildings" – in translation meant "teachers' houses" – big gap in expectations
Start with a pilot project if possible
Build similar/identical systems in the U. S.
A well prepared and trained team is a happy team! Then they could slow down and really talk with community members, do hands on training to be sure they understood.
Failure to follow lessons 4 & 5 is bad
The customer is always right
Follow the checklist from the Standing Content Committee (SCC)
Know the strengths and limitations of your travel mentor
Politics are everywhere
Listen, Listen, Listen
Sometimes it rains
Afterwards, a number of us met regarding the go-forward approach to the Research and Development (R&D) Group projects in the context of the Engineering Service Corps. In this and numerous other conversations, partnering with Rotary came up repeatedly.
Then we walked to the Milwaukee Art Museum for an awards reception. Mike Paddock, long-time resident, provided a well-informed commentary of the sights along the way.
Saturday, 10/6/17:
Cathy Leslie spoke to the view ahead to, and beyond, 2020.
Want 5 country offices serving 50% of country programs
Need to be strategic about where we work – some countries are not safe or secure, others have sufficient in-country resources
She introduced the panel for Engineering Environmental Justice: the human right to water and sanitation in the US: Colin Bailey, EJCW; Catherine Flowers, ACRE; Duane "Chili" Yazzie, Navajo Nation.
Colin Bailey, Environmental Justice Coalition for Water (EJCW), spoke to issues in California, and the organizing which led to 2012 CA law making water and sanitation a human right, which continues to hold enforcement accountable, and to partnerships resulting in a national coalition formed in 2015. He challenged us to join the coalition and embrace social and environmental justice.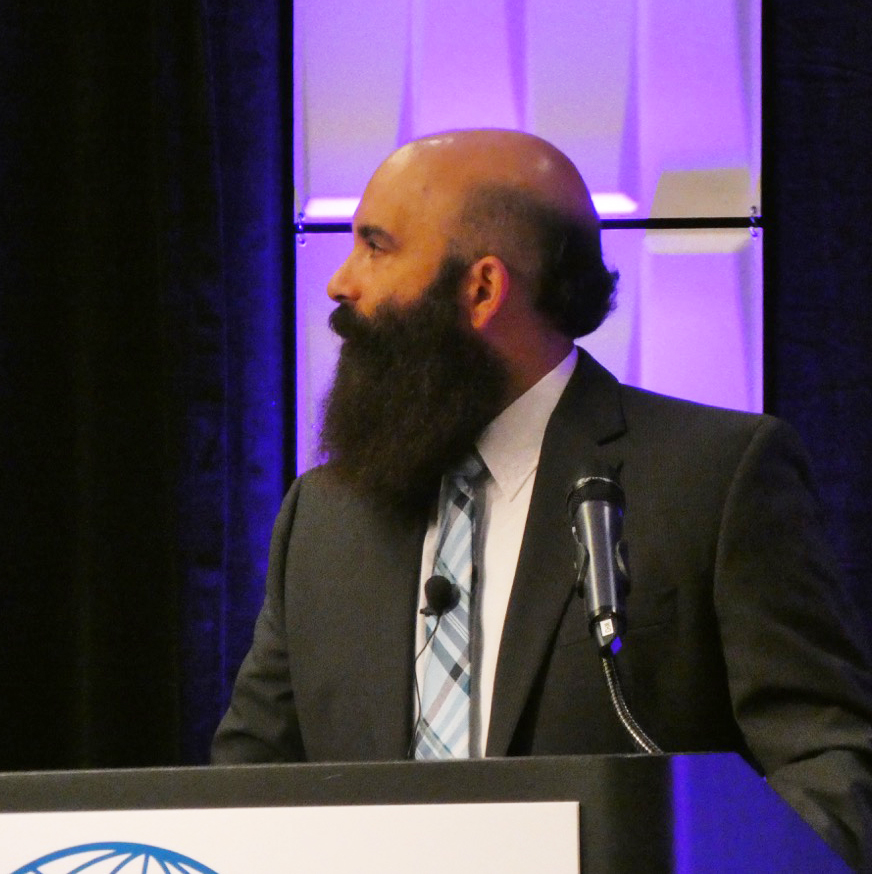 Showed video illustrating problems with contaminated water in CA. Their website has a longer version, Thirsty for Justice: The struggle for the human right to water.
Catherine Flowers, Alabama Center for Rural Enterprise (ACRE), spoke to being from Lowndes County, and the history of Alabama's Black Belt, ongoing issues, and the new norm of climate change. On-site waste treatment in their area is not working. Raw sewage contaminates yards and backs up into homes. She wants to inspire a waste water challenge. Poor families are expected to deal with the problems on their own.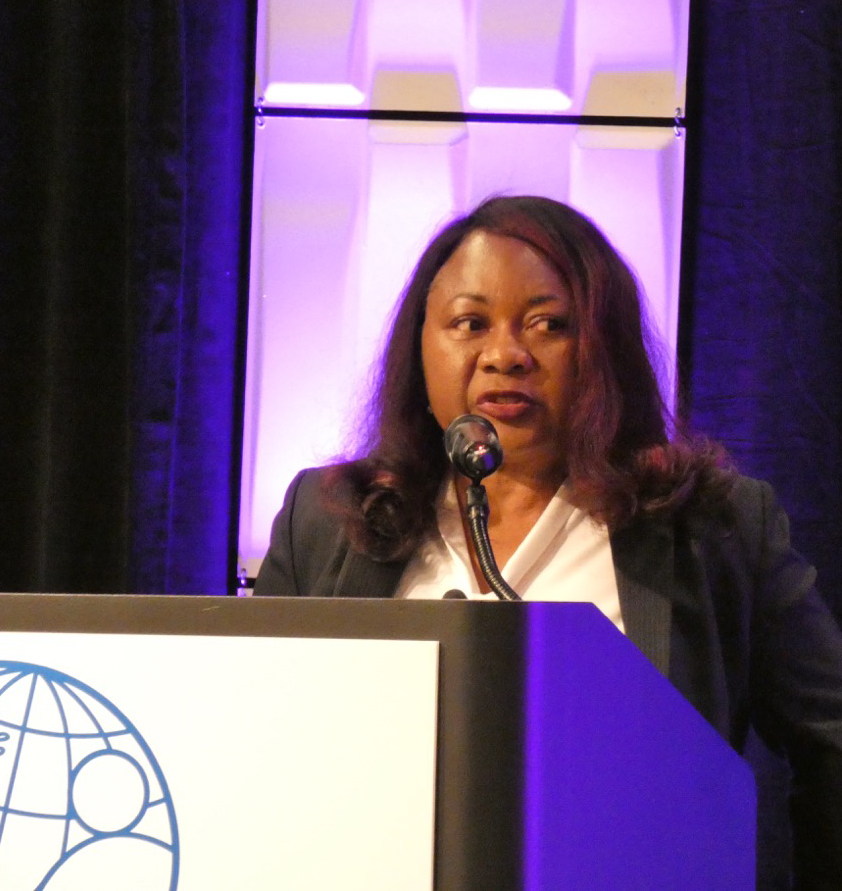 Showed video illustrating problems. Here is a longer video where Catherine Flowers provides additional background.
Duane "Chili" Yazzie, Navajo Nation, spoke in Navajo, then in English, introducing himself by his clan. He spoke of how indigenous peoples guard their relationship to the earth and their original instructions for their lifeways.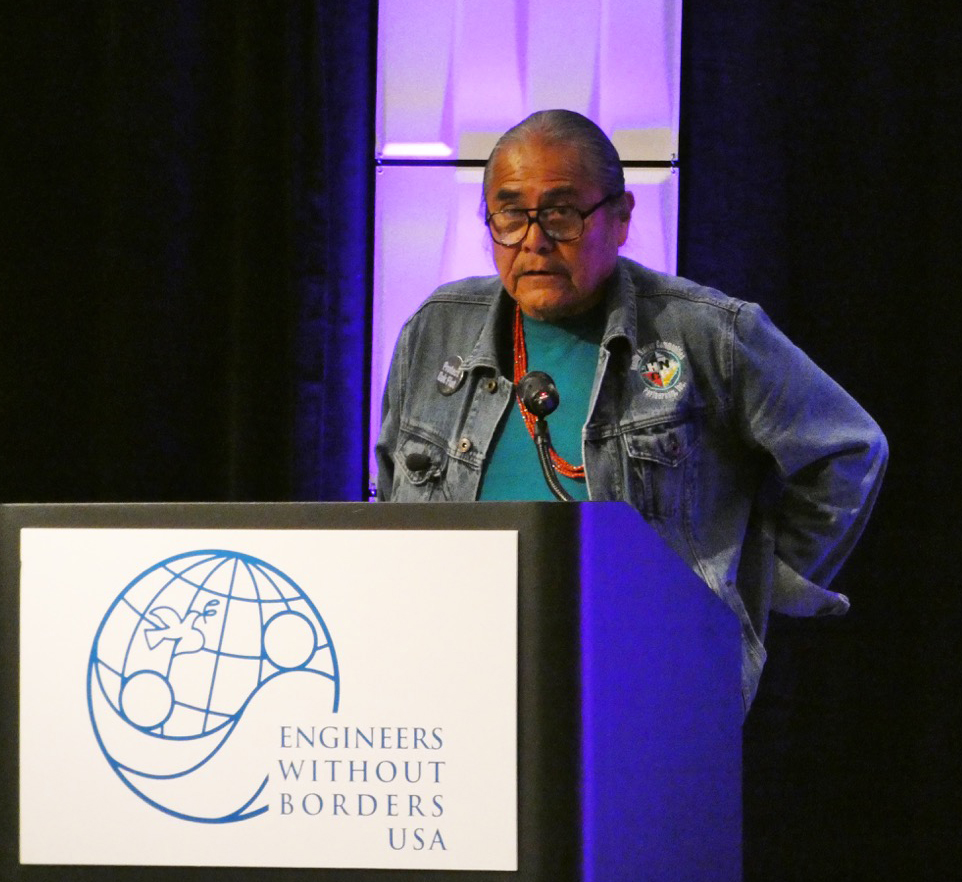 Water is sacred to be respected, as are other fundamental elements. He asked us to consider our children and grandchildren.
He shared a writing he wants to be promulgated, read it. I'd like to find it all, but in part it spoke of: …our relationship with a living Mother Earth…the need to end exploitation, defend the life of all…of our responsibility to understand and do what we can to save our earth and our life…
Showed video of Gold King Mine August 2015 spill, a release of effluent into the Animas River and on into the San Juan River – unbelievable – over three million gallons of waste with Arsenic, Mercury, and other toxics.
The tribal leadership decided not to allow the contaminated water onto crops, so they were damaged, lost over 75%. His request to us is to evaluate the Department of Interior proposed alternatives, that range from $200M up. He said his people need help, perhaps more than other countries around world.
Use of Technology in Development Session
Gerard Daizel opened the Use of Technology in Development session and introduced McKenna Roberts, Mapping Project Sites with GPS Tracking Apps.
She gave a great talk emphasizing the broader issues of what needs to be on a map, for what purposes, and how gps data supports that. She did a live demo of their selected iPhone app, GPS Tracks, and noted the ability to compensate for the vertical accuracy limitation of the phone gps by opening the data from the app in Google Earth to get a more accurate elevation profile based on the Google Earth data.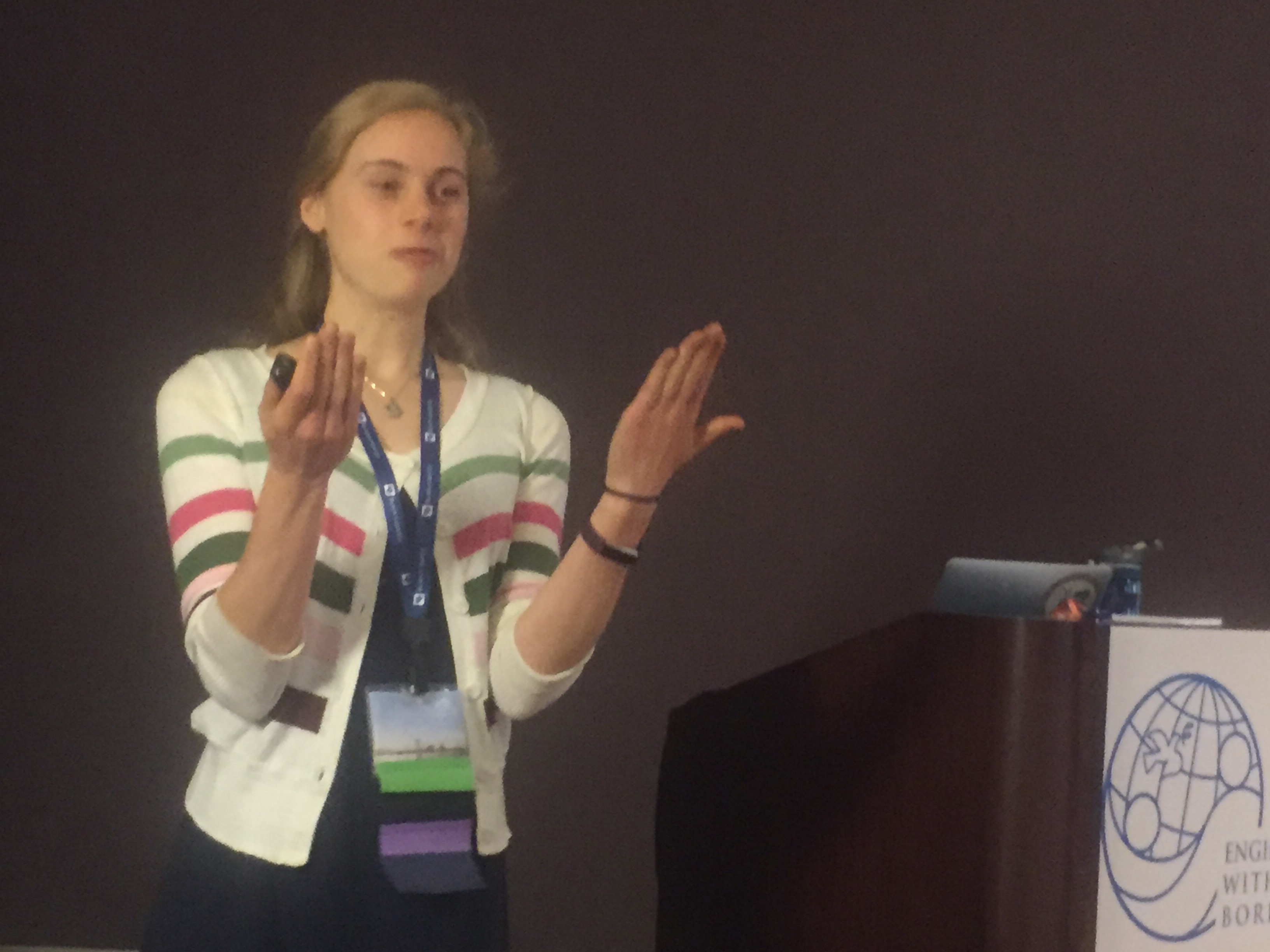 Jake Mireles presented on Technology Prototyping Using SketchUp (SU) and Virtual Reality.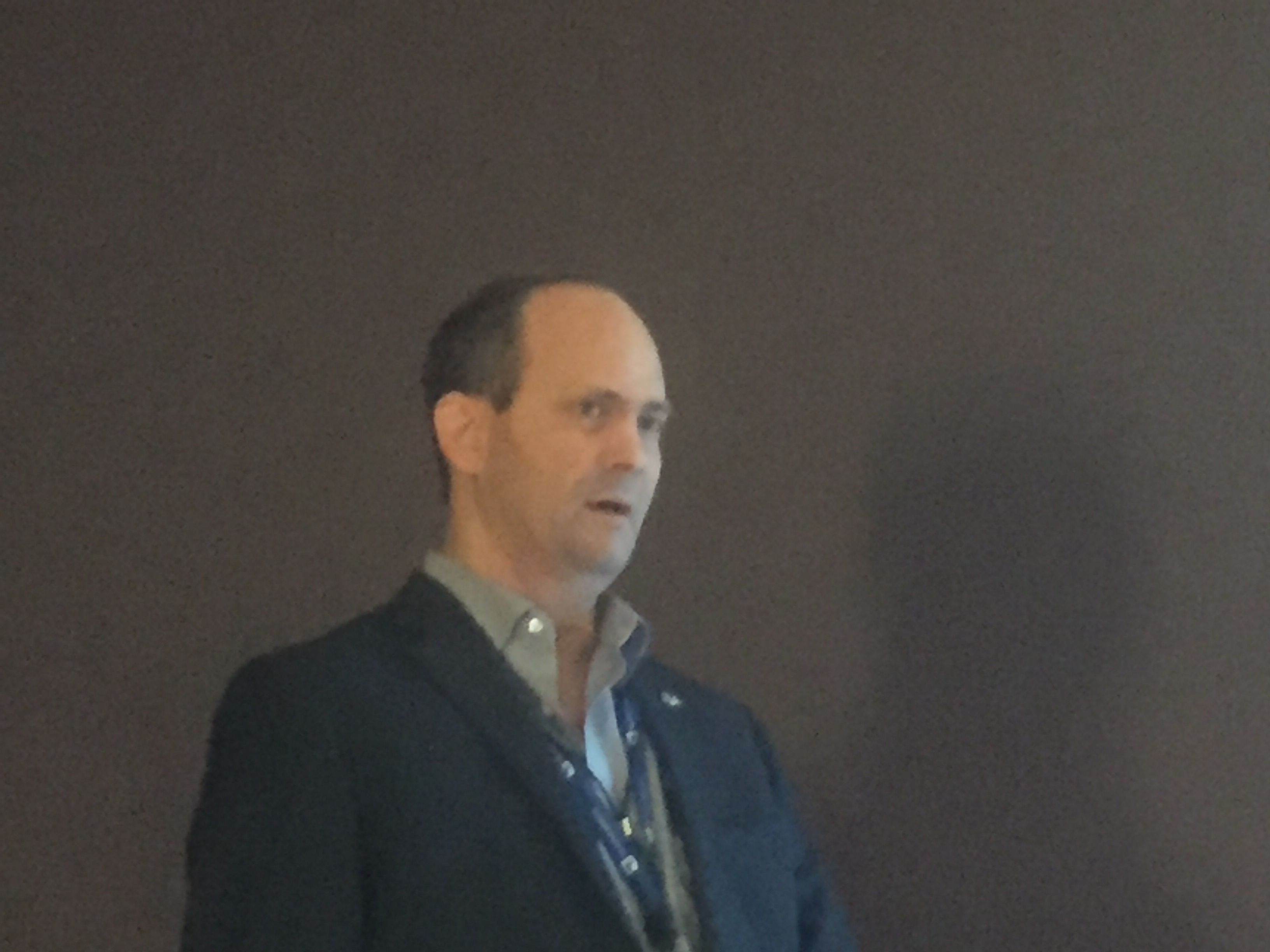 Showed workflow to place SU models in Google Earth.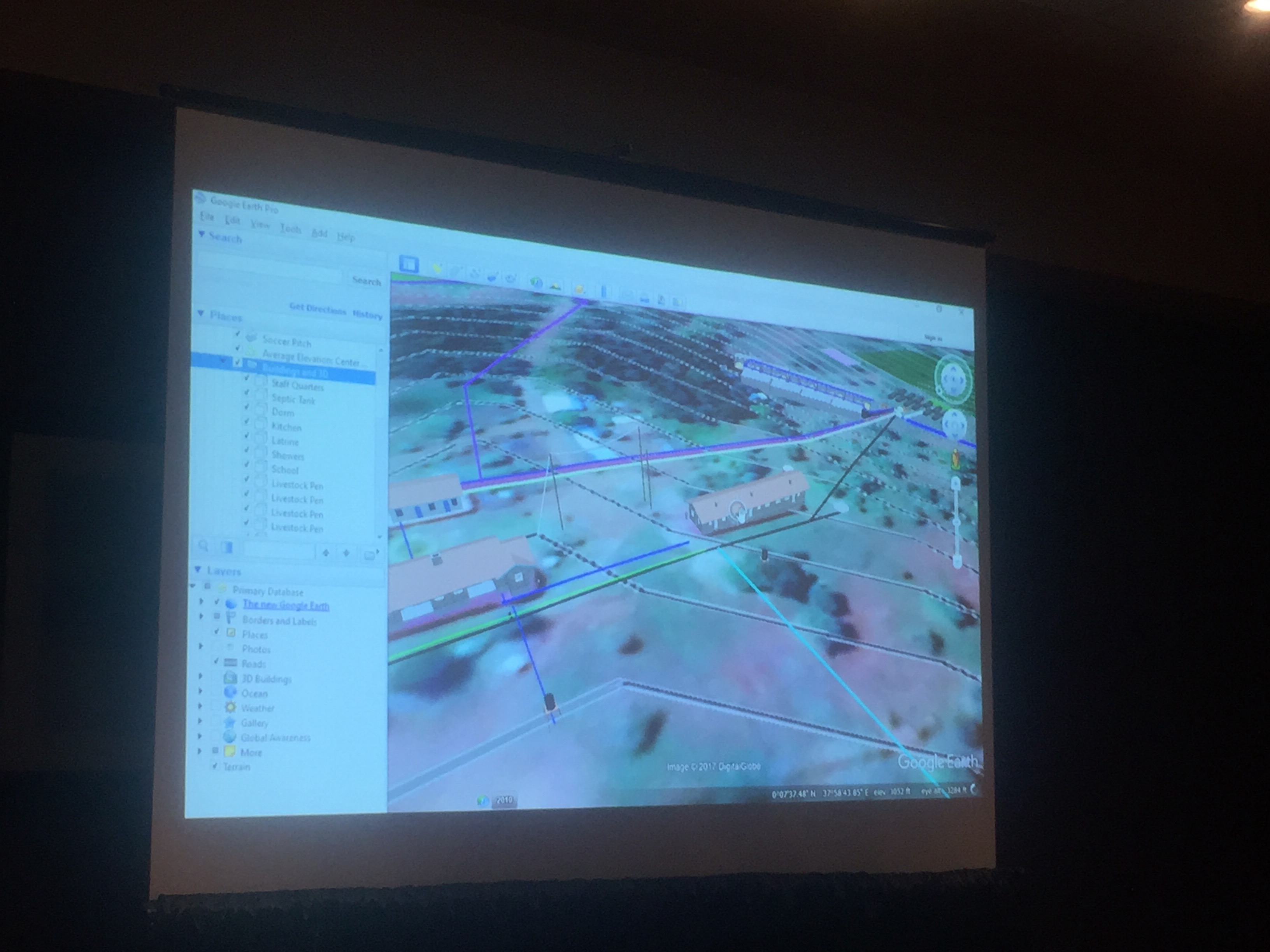 Also rendering in Virtual Reality (VR), using Prospect VR.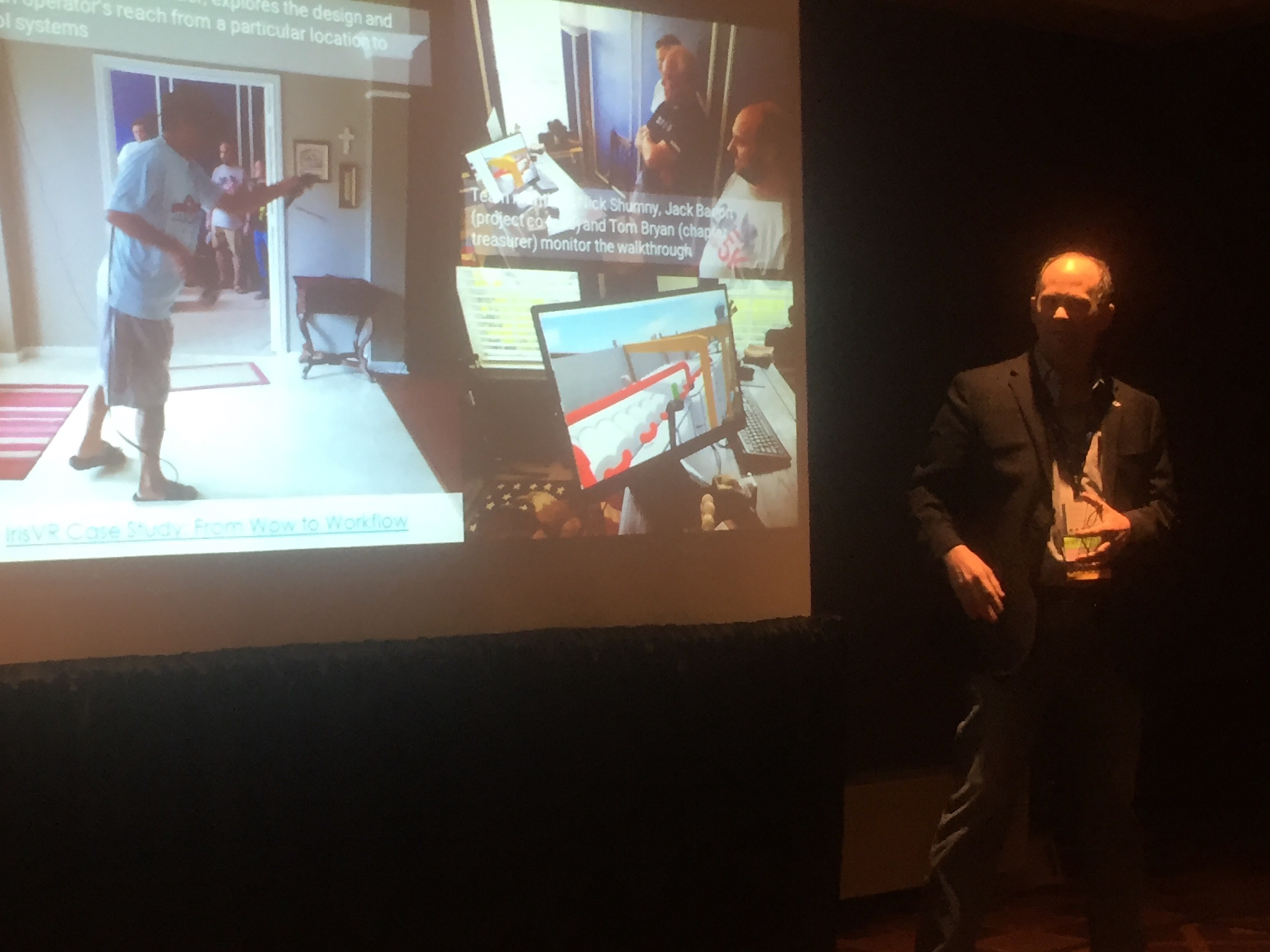 Noted how in an immersive VR evaluation of the biodigester, people went from Wow! to workflow, through direct interaction with the model.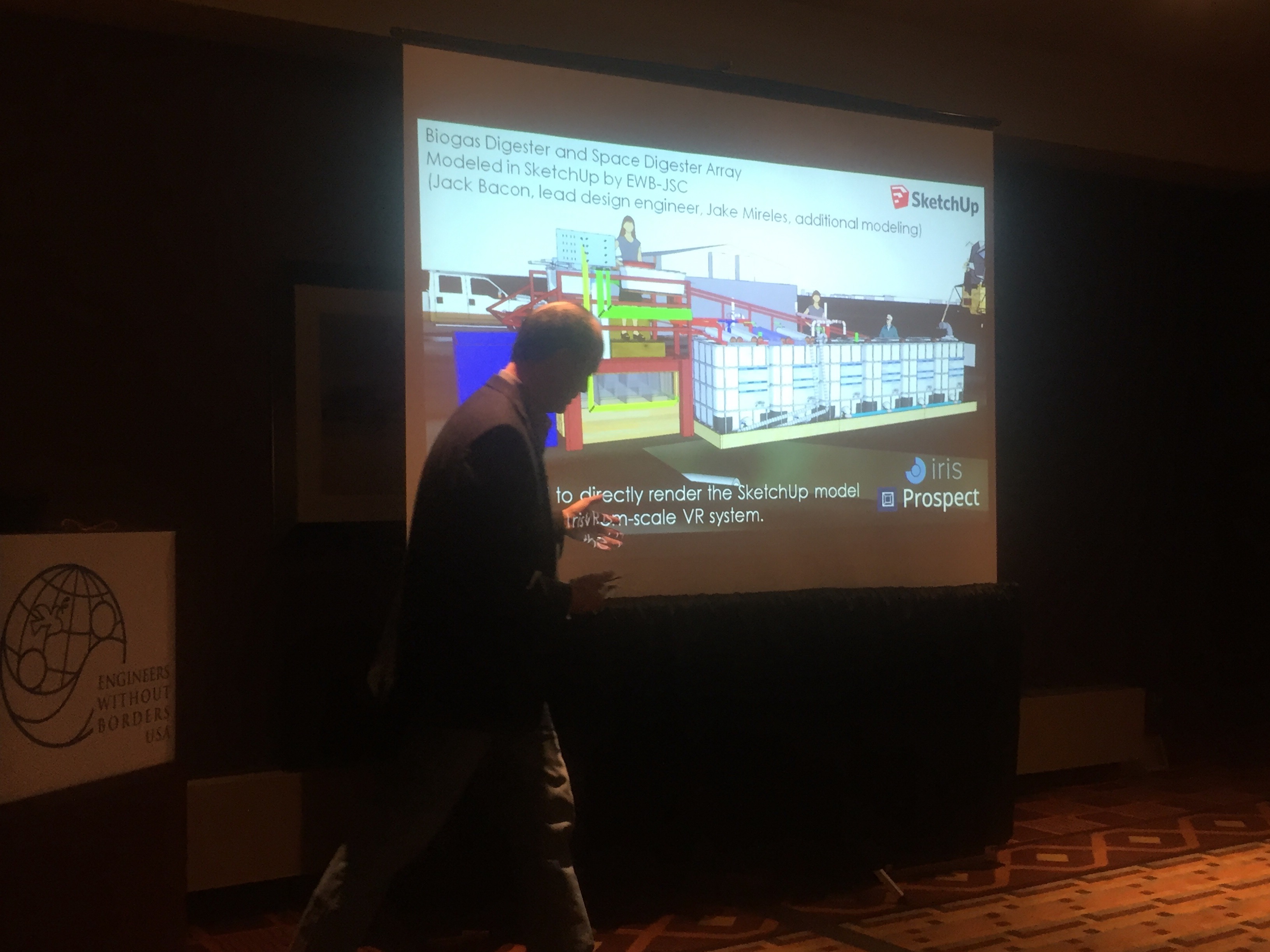 Poster Sessions
After lunch, I participated in judging the poster sessions. I'd left by the time the winners were announced:
El Balsamar, El Salvador Composting Latrine Project, Detroit Professionals/Michigan State University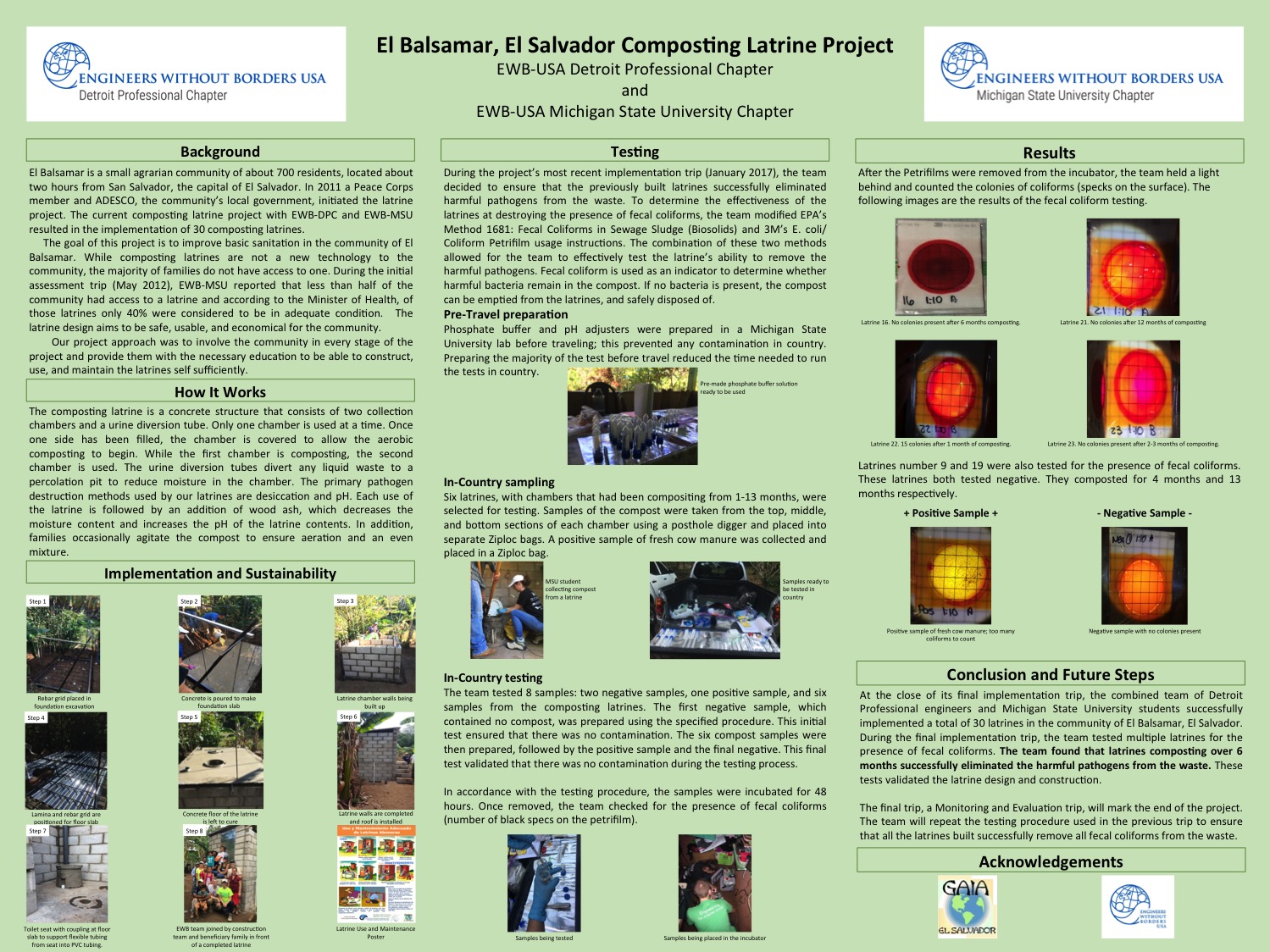 A One-Charge Incubator for Inexpensive In-Field Analysis of Water Quality, Greater Austin Chapter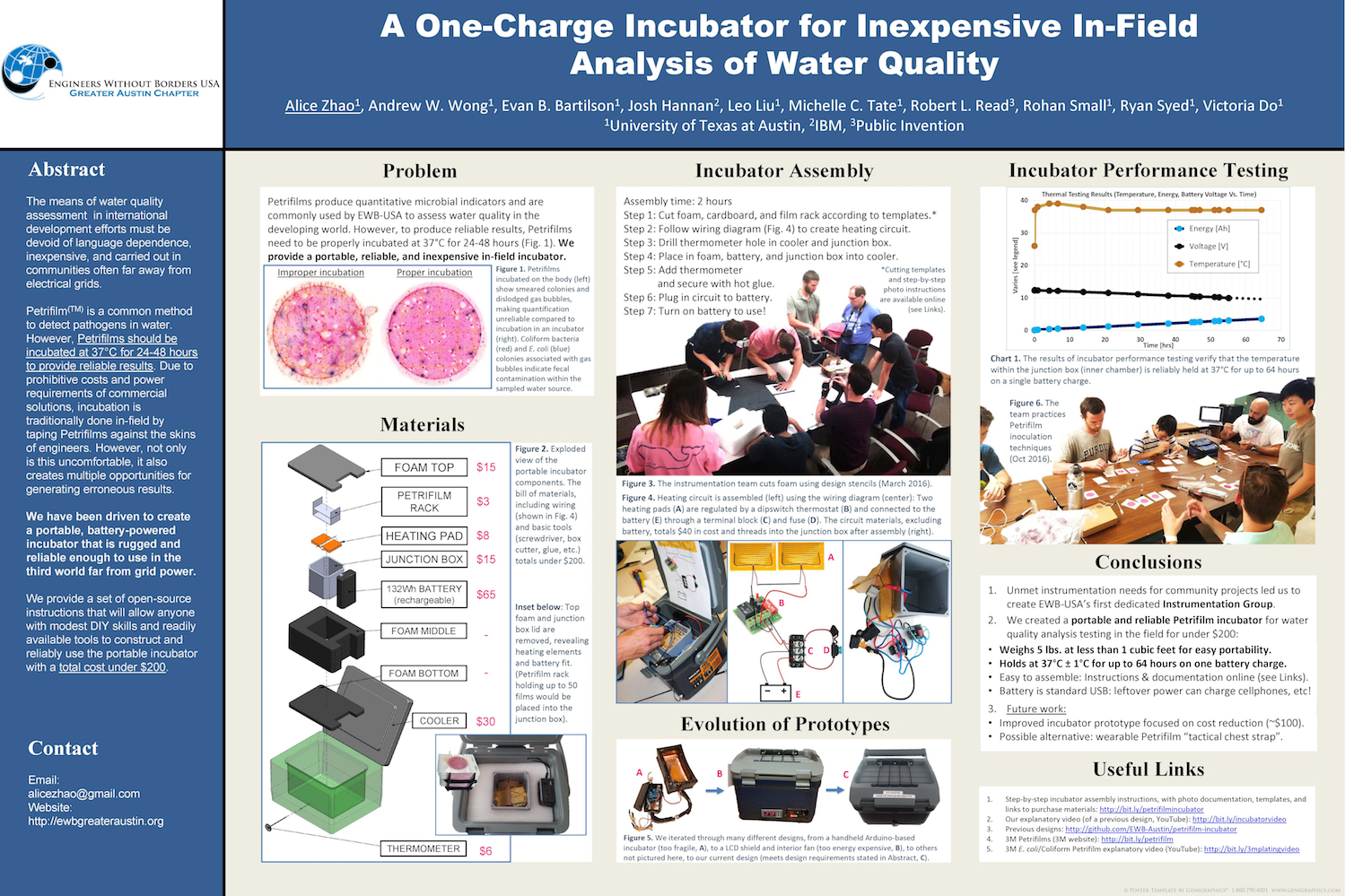 Working with El Amate, Guatemala, Kansas State University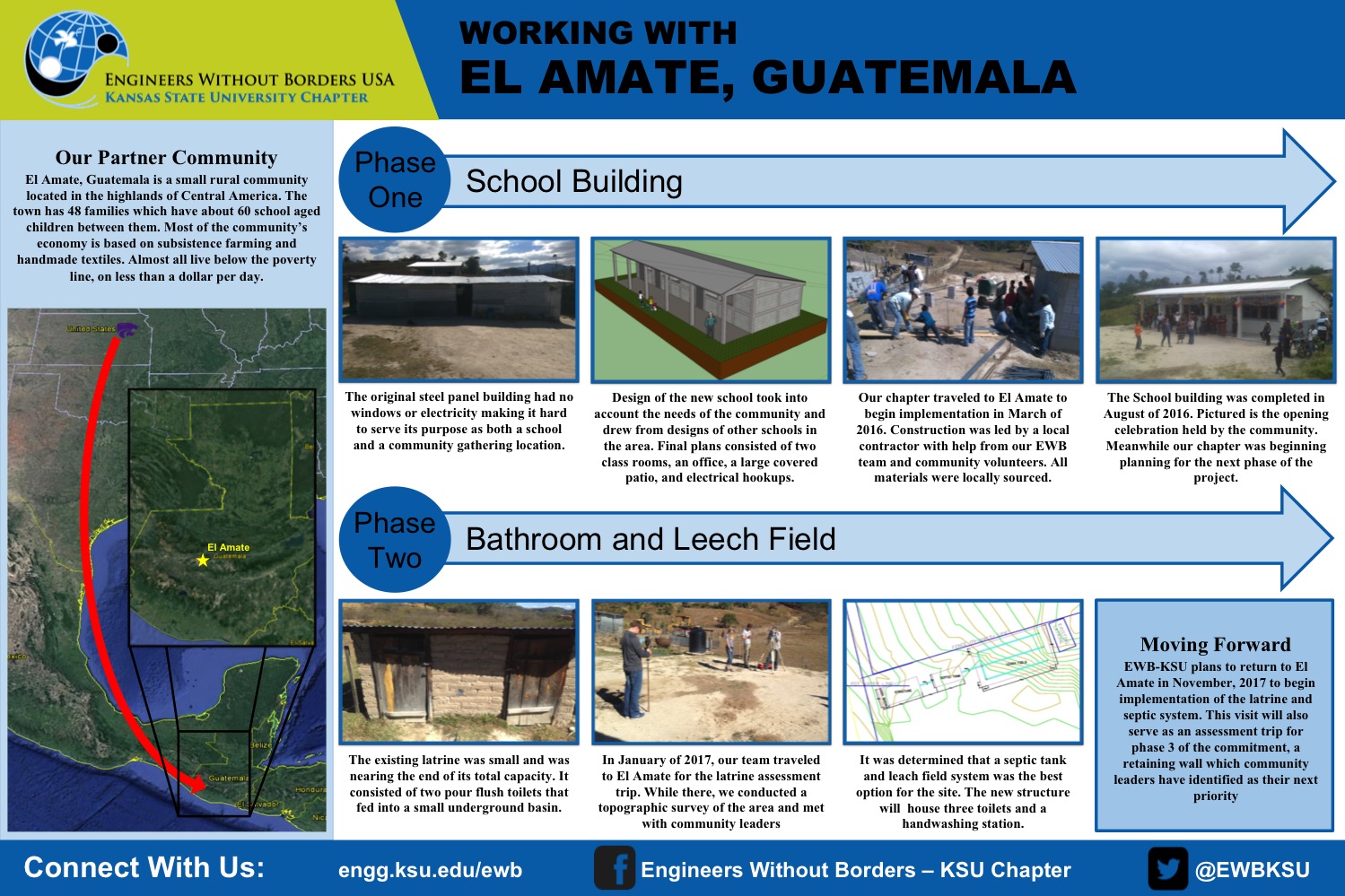 VR demonstration by Jake Mireles
I observed and participated in a very popular VR demo by Jake Mireles.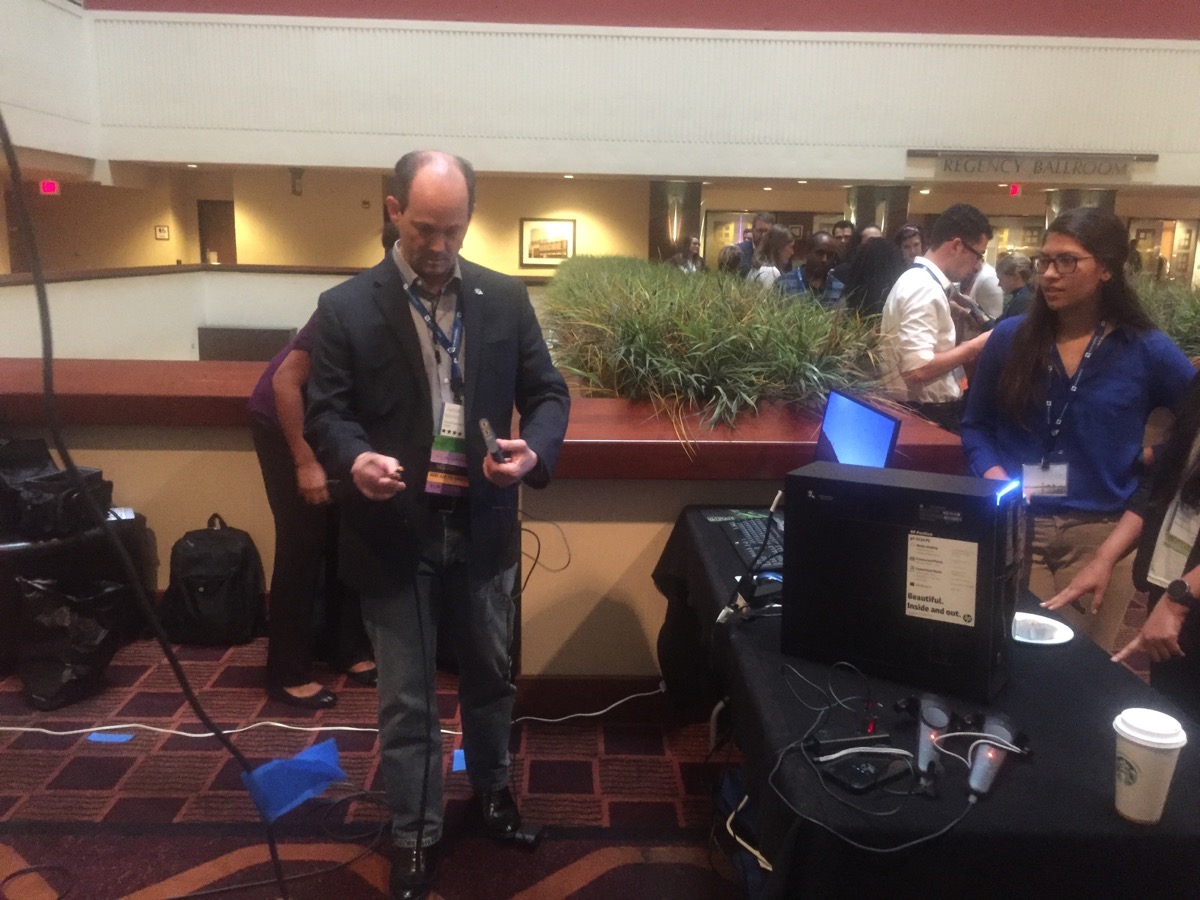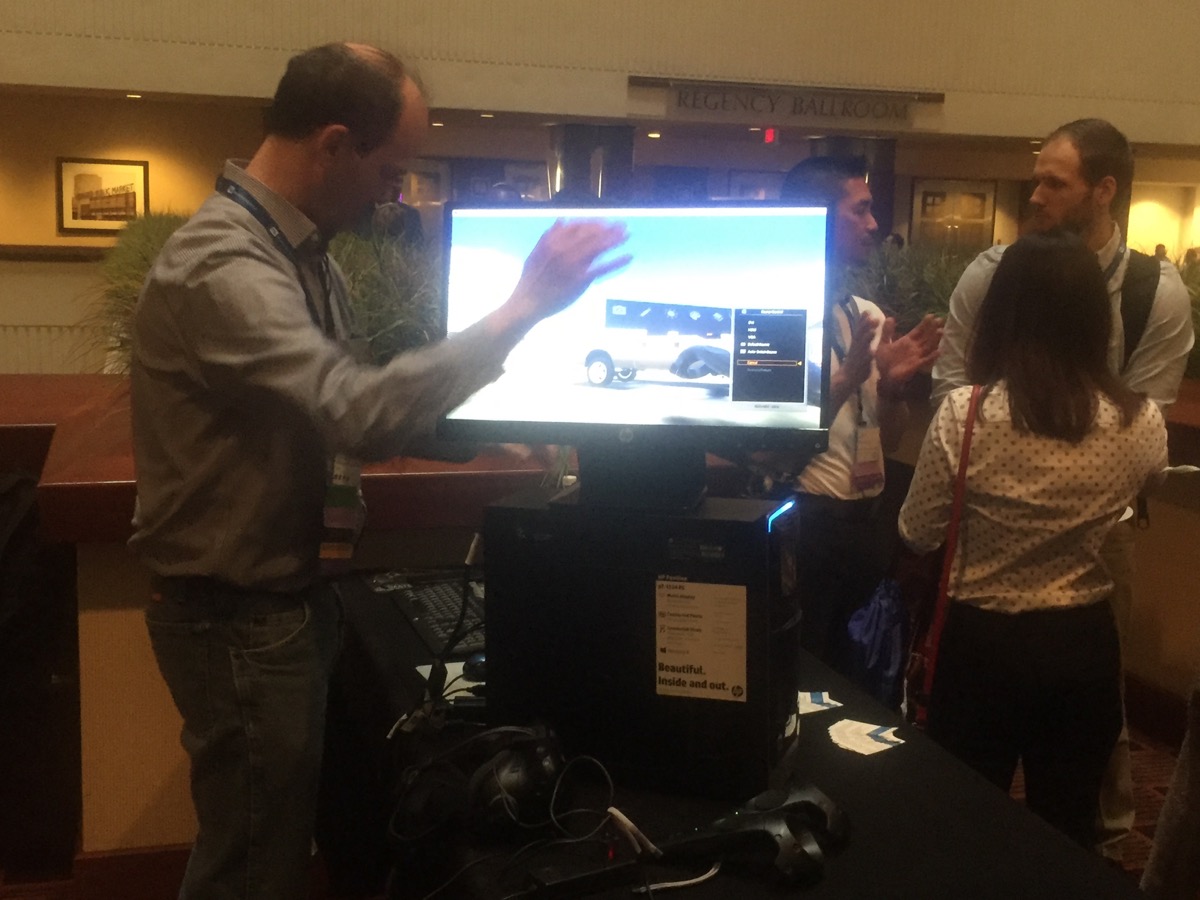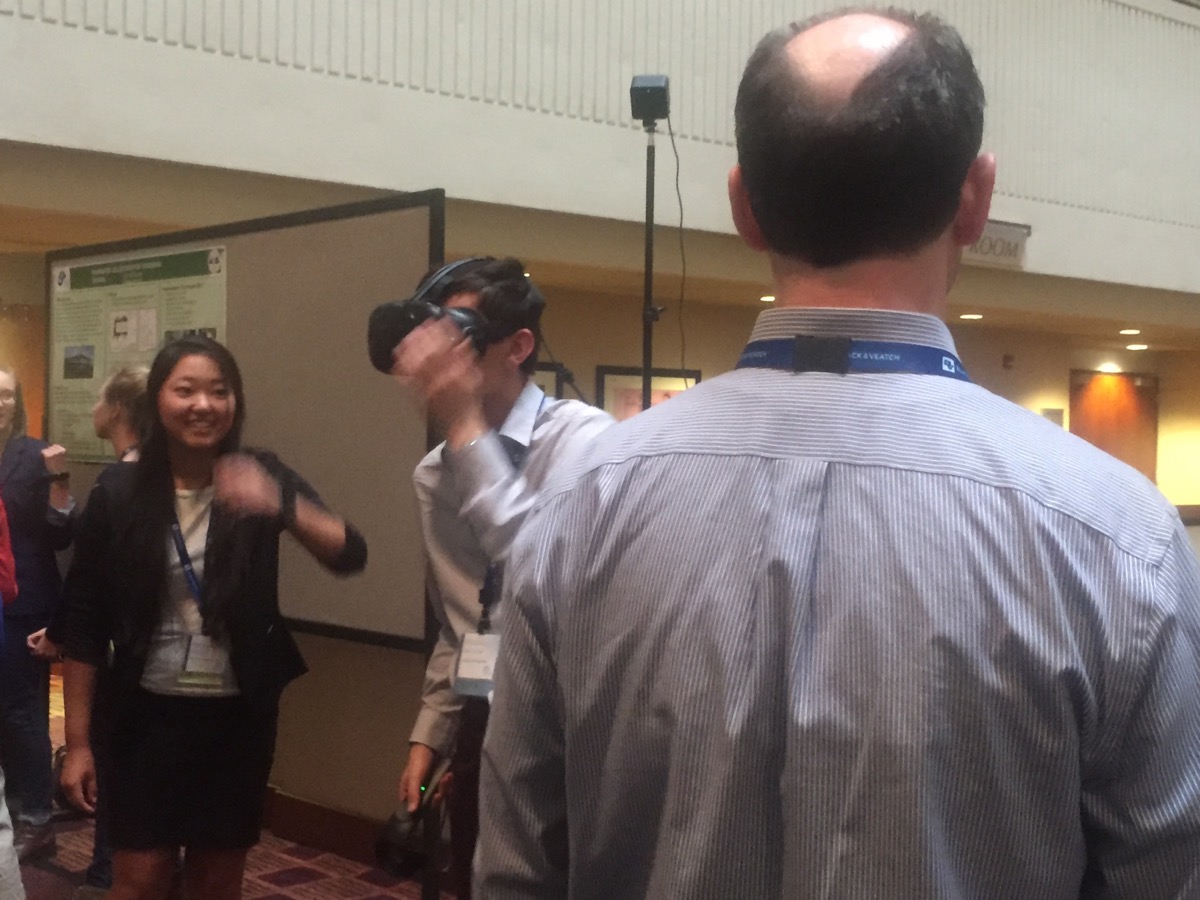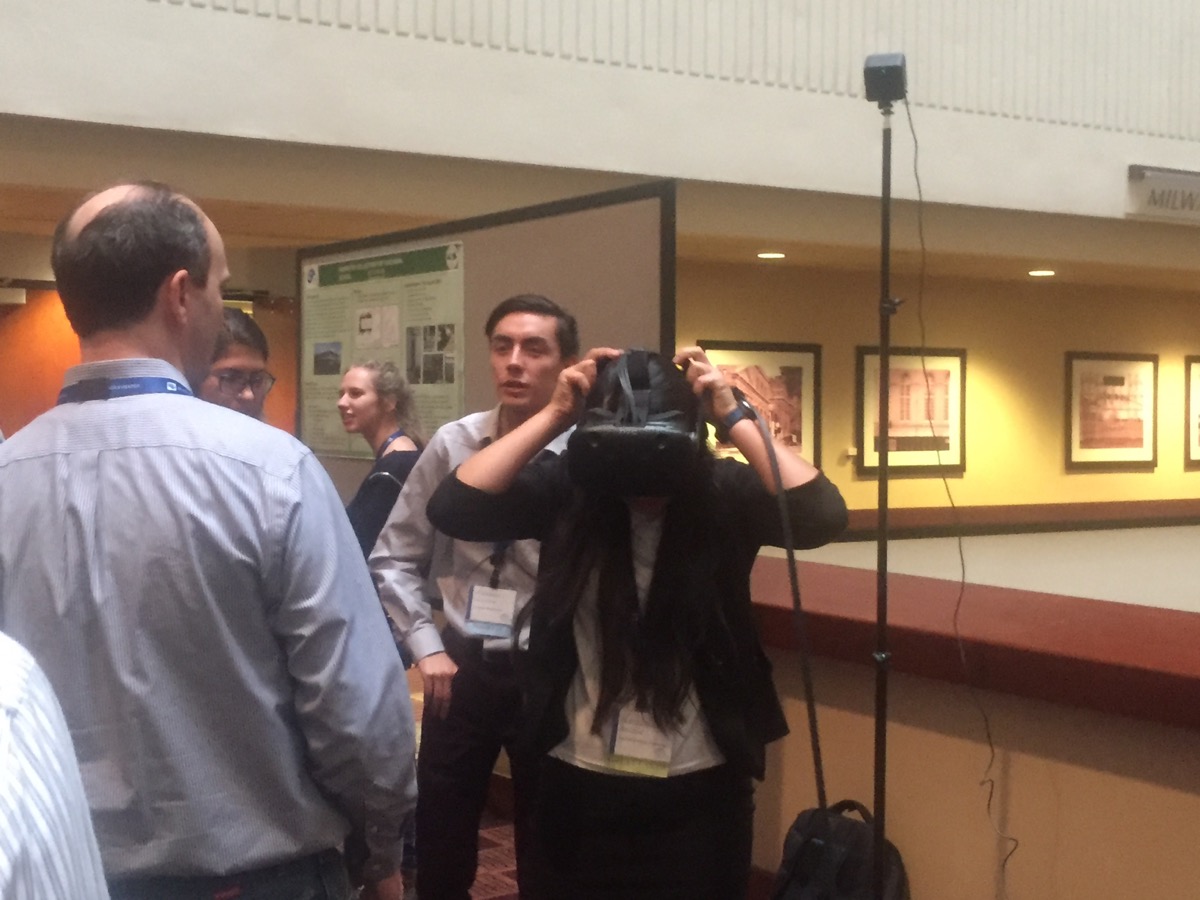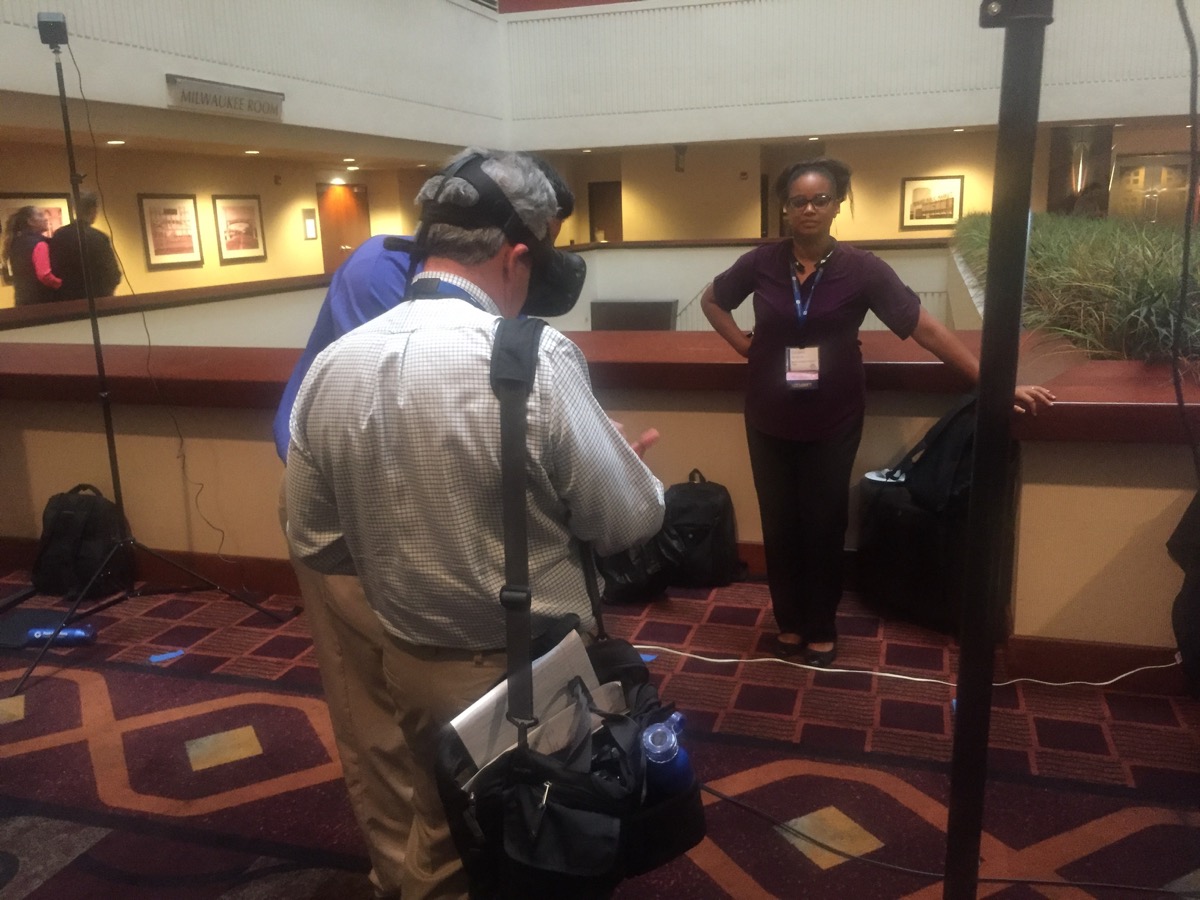 This playlist has two videos of people interacting in the VR environment (including this author).
IEEE Special Session
Cathy Leslie introduced Kartik Kulkarni and his talk on IEEE's Approach, Programs, and Contributions to the Sustainable Development Sector. He noted the EWB, IEEE, and ASME collaboration on Engineering for Change.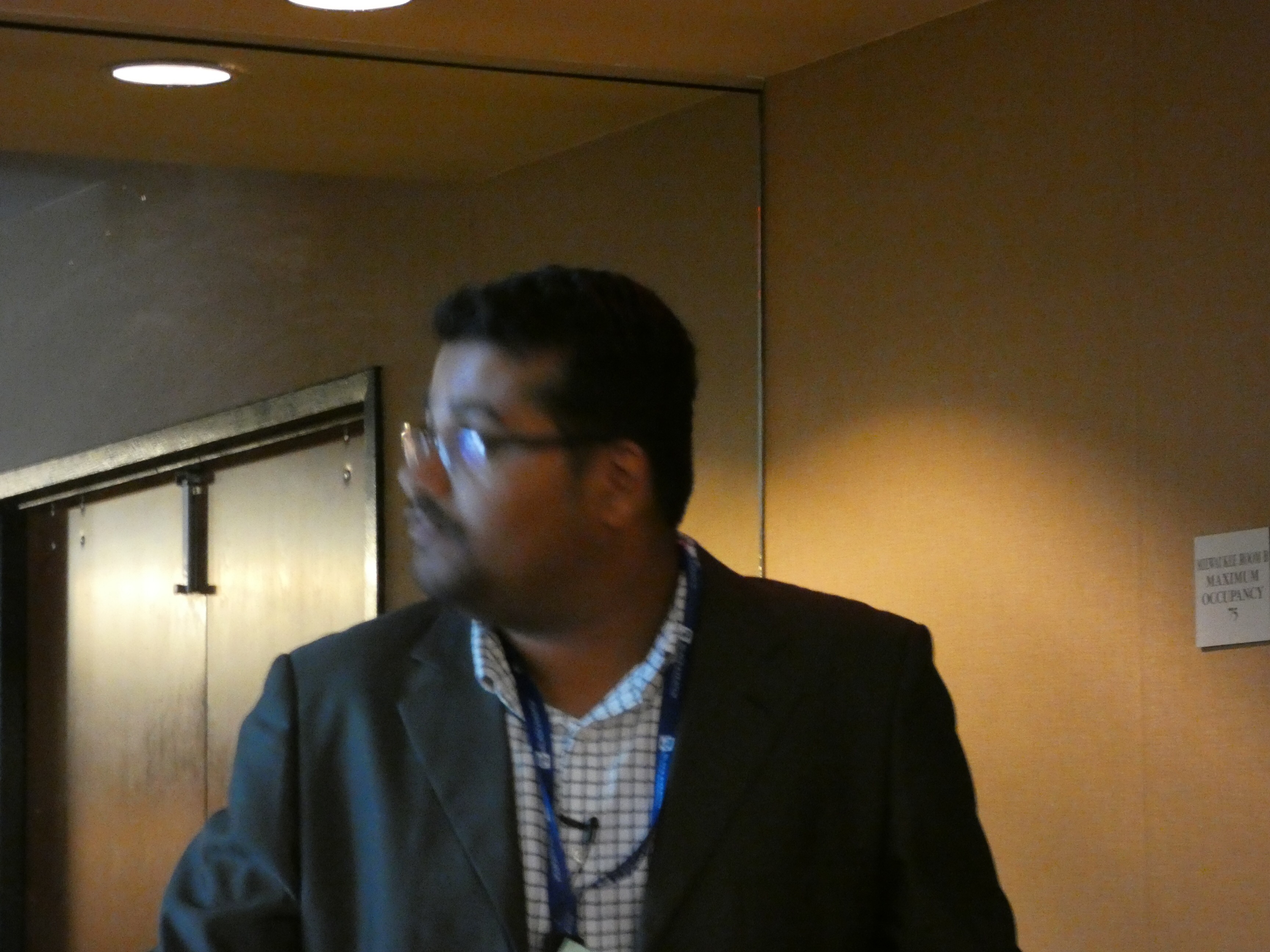 Ray Larsen discussed IEEE's Smart Village Program. He noted the focus on Electricity, Education, and Enterprise. Approach is to use local entrepreneurs to ensure sustainability. It's all about business and education.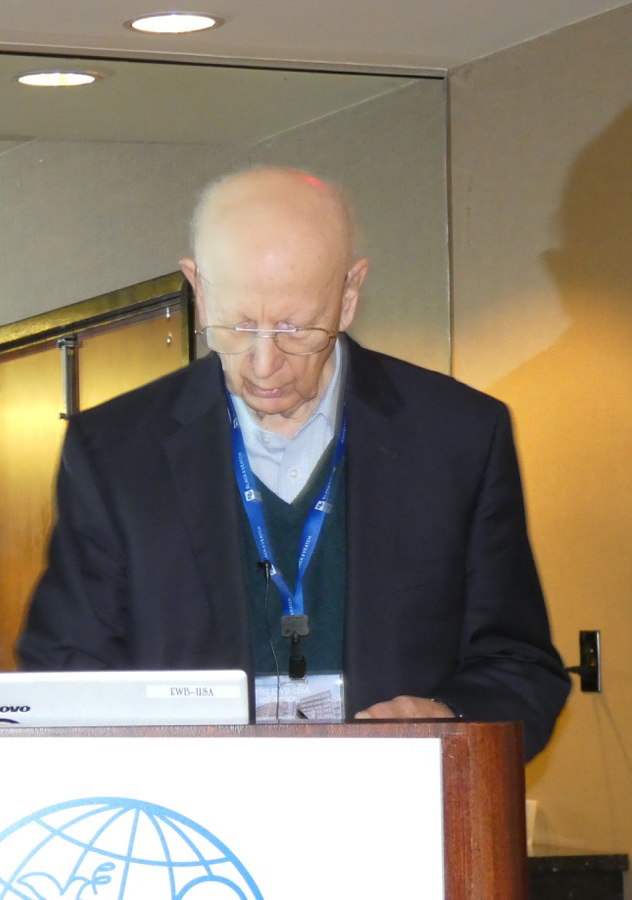 I had to leave early for my flight home. I was glad to have been there to see old friends, make new ones, and be jumpstarted, reminded why this work is important and how fortunate we are to be able to do it together.
At the airport, this sign just past security screening, caught my eye. I really liked Milwaukee.